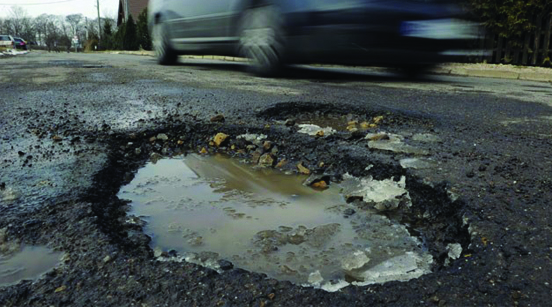 It's time to fix California's roads
Posted by Tom Squeri on Sep 9, 2015
Like many of you, I navigate the highways of the San Francisco Bay Area and Central Coast regularly to visit construction sites, attend meetings and take care of other business needs, and the condition of our roadways is disheartening.
Gridlock is everywhere, no matter the time of day, and I frequently find myself on stretches of major highways so rough it makes me thankful for good suspension and tires.
Of course, the poor condition of California's roads is no secret. We see the potholes, deteriorating asphalt and cracked concrete everywhere we look. In fact, a recent study by a Washington, D.C. nonprofit that researches surface transportation issues confirmed what we drivers already know: California has some of the worst roads in the nation.
The worst of the worst are in San Francisco, Los Angeles, San Jose and Concord, according to the nonprofit TRIP. That report also estimated that 28 percent of the state's bridges are in need of repair or replacement and 17 percent are obsolete.
This disrepair is costing California motorists nearly $762 annually per driver on average, and even more in some areas.
From Sacramento to Washington, our elected leaders are squabbling over how to fix the problem of infrastructure funding that has left state and local agencies without the budgets to fix roads or fill potholes. For several years running, there has not been nearly enough money funded to build what needs to be built or fix what needs to be fixed.
What is frustrating about this funding crisis is that it's not an engineering problem, social problem or even an economic problem. It is purely a political problem. Funding the nation's highways and bridges has been the subject of a seemingly endless debate in Congress, and the only result is "band aids" put on the gash even as the public conversation more and more focuses on our deteriorating infrastructure.
The federal Highway Trust Fund, which reimburses states for billions of dollars of work on roads, bridges and tunnels, is anything but trustworthy. The Highway Trust Fund has been limping along on short-term extensions and general fund transfers for the better part of a decade. The fund was intended to support highways by collecting taxes from those who use them the most—primarily through an 18 cent tax on gasoline, but also taxes on diesel, tires and some vehicles. But gasoline consumption is declining, and 18 cents today buys far fewer road workers and less asphalt than it did in 1993, the last time the tax was adjusted.
Portions of the trust fund are often diverted to other uses such as mass transit and the general fund.
According to the Federal Highway Administration, the trust fund regularly owes states more money than it collects in gas tax receipts.
Though California's gas tax is much higher at nearly 50 cents a gallon, the funding dilemma here is compounded by the fact gasoline taxes are shrinking due to more efficient engines and popular electric vehicles.
Gov. Jerry Brown has asked lawmakers in a special session to help devise a way to fill a $5.7 billion annual gap in California's road-repair purse. The state needs $8 billion a year for repairs, though its gas tax is expected to generate only roughly $2.3 billion. That's not counting the billions of dollars cities and counties need for road maintenance.
"We're in such a desperate need for funding," said Assemblyman Jim Frazier, a Democrat and chairman of the Assembly's transportation committee. "We've just come through the worst recession any of us have been able to see, and there wasn't any funding. That's costing us, because for every dollar we didn't spend, now it's costing us $9 to fix."
According to Caltrans, more than three-quarters of California's $3.8 billion annual budget for highway construction projects contains federal funding. It's imperative that our state's highway fund continues to receive federal reimbursements.
Caltrans Director Malcolm Dougherty said, if federal funding dries up, California's highway fund could become insolvent in as little as two months. Work on more than 680 major projects worth nearly $10.7 billion could come to a halt and thousands of Californians could be out of work, he said.
That's not a scenario any of us want to see.
There are many good ideas on ways to raise the funds needed to repair and improve our transportation infrastructure - from gas tax reform to vehicle miles traveled fees and tolls – but there doesn't seem to be political courage to implement any of them. Waiting any longer to address an ever-growing backlog of roadway repairs will put drivers at risk and cost more in the end.
"This is an urgent crisis that we have to deal with now," said Sen. Jim Beall, chairman of the Senate Transportation Committee. "If we don't, we're leaving the next generation an astoundingly expensive problem." Or, as Matt Cate, executive director of the California State Association of Counties succinctly put it recently, "we can't kick the can down the road anymore because it will land in a pothole."
Politicians should realize vehicles are still the No. 1 way we get people from here to there.
To put "transportation" funding toward mass transit systems or high speed rail still leaves us with potholes and bottlenecks that affect the vast majority of commuters in the state.
Voters are growing tired of the budget gimmicks in Sacramento and Washington.
We have a simple message for our leaders: Fix the funding that fixes our roads and bridges.
Let us finally get headed in the right direction on building a healthy transportation infrastructure. For more information and ideas on solutions, visit the website www.FixCARoads.com.
Back to all Blogs