Harvest Construction
Posted by Robin Steudler on Mar 18, 2015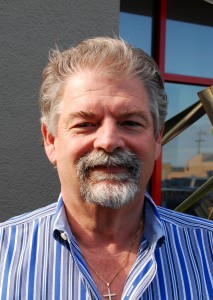 When Ken and Janice Rudisill started Harvest Construction 26 years ago, they drew from deeply shared values to form a long lasting and successful business venture. Harvest Construction is a general contractor which creates beautiful environments in Monterey County. This family business builds and remodels custom homes and commercial properties, primarily in Pebble Beach and Carmel, but also in residential areas such as Tehama and The Preserve.
Their key to success is the ability to build lasting friendships through dedication to quality, customer service, and fair business practices, and along the way treat clients and suppliers the way they would want to be treated themselves.
Over a ham and cheese omelet at the Breakfast Club in his home town of Seaside, Ken Rudisill talks about his "best friend and business partner," who also happens to be his wife, Janice. "She was my next door neighbor's niece," he recalls, "and we first met when I was eleven years old." They lost track of each other during their teen years, but after they met again in their early twenties, they were married in less than a year. "That was 40 years ago," says Ken. "We have been blessed." Ken goes on to explain, "Our Company is Christ-based. The Bible says if you sow good seed you reap a good harvest." Hence the name, Harvest Construction.
Finding roles for multiple family members can be a challenge for some business owners, but Ken makes it sound easy. "We are family focused," says Ken. "Jan has done our books all these years, and now our daughter Jennah is a very good assistant project manager and is my right hand." Son Josh joined the business at age eighteen, and now runs the firm's cabinet shop. Ken's dad was a part of the team until retirement, and Jennah's husband, Billy Brown, now works with them as a carpenter. Only Josh's wife, Jennifer, is employed outside the business, but Ken notes that she works for the company's accountant.
Ken began in the construction business as an apprentice Carpenter in 1971. When the company he worked for closed up operations, he and Jan started Harvest Construction. Over their years in business together, Harvest Construction has built new homes along the prestigious 17 Mile Drive and the legendary fairways of Pebble Beach Golf Links, and has completed renovations and construction at well-known properties such as the Lodge at Pebble Beach, Poppy Hill Golf Club and Cypress Point Golf Club.
Harvest Construction's projects often incorporate beautiful decorative stone masonry materials from Graniterock's Monterey Peninsula Branch in Seaside. Ken appreciates the ability to send his clients straight to Graniterock with the confidence to know they'll receive the great customer service he needs and expects for his customers.
While it can be fun to meet and get to know the famous owners of these prominent properties and to enjoy work within the stunning surroundings of the Monterey Peninsula, Ken and Jan also enjoy relaxing at home with family. Ken's face lights up when he begins to talk about his four grandchildren, Savannah (7), Brayden (3), Grace (1) and Hunter (4 months). "They can do whatever they want when they come to Yaya and Papa's house!" Ken is a golfer, and is fortunate to be able to play all the fabled courses of the Peninsula with his clients and friends. The Rudisills also both enjoy travel, have been to see wonderful sights around the world, and have plans for more trips with family and friends.
Ken's clientele and business focus made it possible for him to weather the recession with little ill effect. Now, however, he does see greater confidence among his customers and looks forward to continued growth in the market. Graniterock looks forward to continued partnership with this family-oriented Friend of the Family.
Back to all Blogs