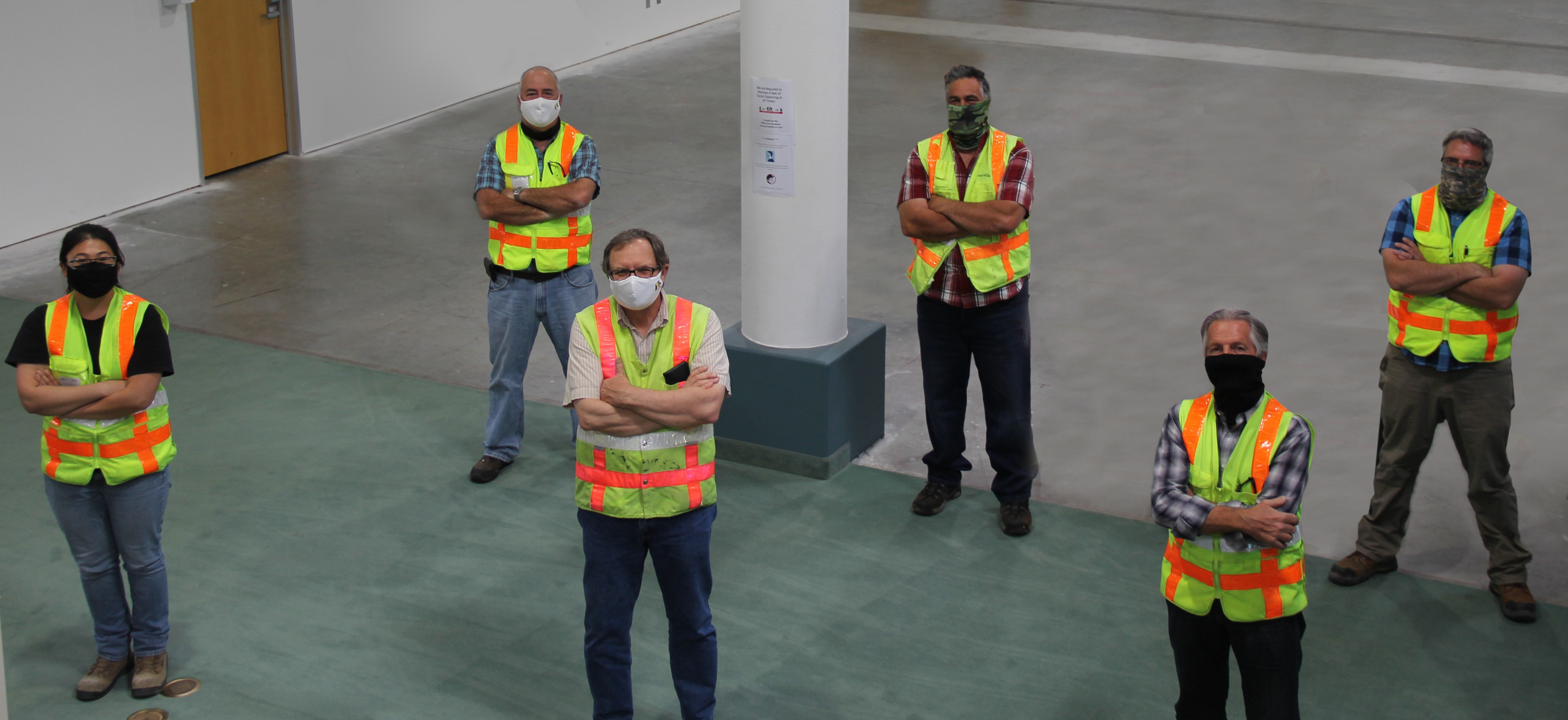 Graniterock's safety team steers the company through the coronavirus crisis
Posted by Graniterock on May 27, 2020
(From left: Daisy Kwan, Paul Cianciarulo, Mike Herges, Todd Barreras, Randall Jacobsen and David Leffel)

WATSONVILLE – In a safety career spanning nearly 40 years, Mike Herges has never faced a greater risk than the invisible and fast-moving, deadly coronavirus.
Pretty radical changes had to be made almost overnight to keep the construction industry alive as the virus turned the world upside down and people were told to stay home.
"I started thinking at the end of February this wasn't the normal flu," Mike said. "Things were much more serious than we thought. The question was how would we be able to keep people working together at all."
Isolating at home isn't viable for an industry allowed to pursue projects considered "critical infrastructure" even during the strictest shelter-in-place orders issued in March and April.
By the second week of March, Mike and Graniterock's entire safety team were drawing up new game plans to transform operations on construction sites and at the company's aggregate quarries and construction materials plants to protect crews and put a lid on Covid-19.
As soon as the first shelter-in-place order came down in the Bay Area March 16, the safety team pulled together to help Graniterock implement practices recommended by the Centers for Disease Control.
The team, headed by Corporate Safety Director Paul Cianciarulo, is rounded out by Randall Jacobsen, Todd Barreras, David Leffel and Daisy Kwan, in addition to Mike.
Randall, Todd and David manage the safety requirements and training of Graniterock's 500-person Construction Division. Mike and Daisy oversee safety for the company's aggregate mining sites, asphalt plants, concrete plants and building materials locations.
The team is supported by Jana Monello and Rae Jett.
"It was a balancing act. We had to figure out how do we let people come to work and do the work necessary to provide for their families and send them home safely," Paul said. "By default, the safety team has become Covid-19 knowledgeable and all of us are doing things we've never had to do before."
Huddling together for a hazard awareness meeting, sharing iPads and carpooling to work were some of the first common practices to go.
Mandatory face covers and working six feet apart quickly became the new norm.
More than 4,000 face covers and cloth masks have been given out at Graniterock, with thousands more on the way.
Signs are posted at all Graniterock locations alerting customers of ways to protect themselves from Covid-19, including frequent hand washing and covering coughs and sneezes.
Securing ample hand sanitizer and disinfectant became difficult as panic buying took hold and such supplies became scarce early in the pandemic.
As a result, Graniterock team members from our small tools group in Construction started making sanitary supplies for distribution throughout the company to keep workers safe.
Clear plexiglass barricades were installed at the company's building materials outlets to reduce possible exposure between team members and customers.
Within 72 hours of the shelter-in-place orders updated May 4, which allowed construction to fully open, the safety team stood up a new compliance program and trained 40 supervisors.
Addressing Covid-19 has become the safety team's top priority in addition to managing ongoing safety training required by Cal-OSHA and other regulators.
From the start of the pandemic, their approach has been people first, focused on preventing Graniterock team members and customers from contracting the virus while at work.
"I got into this career because I enjoy protecting people and making sure workplaces are safe," said Daisy, who previously held a safety position at a Cargill salt facility. "Graniterock has a responsibility to protect its people. As an essential business, we have to make sure we are doing our part as individuals and as a company to lower that curve. We're not here to police but to protect people."
In addition to changing safety policies and adapting to new mandates issued by the government in the past two months, a lot of the team's work involves educating Graniterock team members – answering questions, calming anxieties and providing reliable information in a constantly changing and uncertain environment.
They know Graniterock and the construction and construction materials industry are in this new style of work for the long haul.
There's no talk of going back to the way things used to be.
The entire company will continue to take the coronavirus threat seriously and push forward to adapt to whatever comes our way.
"This is not going to go away," Mike said. "There's never been a challenge like this where you can't see it and you can't measure it. With that said, there are precautions you can take so we don't put people at risk."
Back to all Blogs