Friends of the Family: Wilkinson Construction
Posted by Steve Bosco on Mar 18, 2015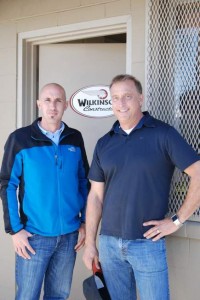 Greg Scopazzi and Phil Wilkinson
Phil Wilkinson was working on a house remodel in Burlingame when he first spotted his future business partner Greg Scopazzi. Some fifteen years later, these two friends have gone on to develop Wilkinson Construction into a successful, harmonious partnership, building and maintaining beautiful custom homes in Hillsborough, and throughout San Mateo County and its environs.
Phil recalls when he first met Greg, who was building a guest house behind his home while Phil was on the job at a house up the street. "I saw that he was a bright kid, doing a good job building his house, and I asked him if he was a contractor. He told me no, he had a job as a cook! So I gave him my card and told him, if you ever think of changing your profession, call me." Greg was soon working for Phil, and within eight years they became business partners in this thriving company.
Wilkinson Construction is a custom home builder and general engineering contractor which provides a wide range of services. From new home construction to full-scale remodeling or additions to existing homes, the company can assist with concept and plan design, construction cost budgeting, resource and logistics planning, scope management, project scheduling, administration, supervision and building. Then, once a beautiful new home is completed, Wilkinson's Home Preservation Division offers clients the services required to maintain their investment and keep it looking its best.
Phil, who lives in Half Moon Bay with his wife Nannette, son Cole, and daughter Karenna, grew up in La Selva Beach. "Graniterock is a company I have known since I was a kid, and it has always been a part of my consciousness. In fact, when I was about 16 years old, I got my first load of concrete from Graniterock. A friend and I had formed a retaining wall, and we had a problem with the pour. The people at the Watsonville Branch felt sorry for us and gave us a credit. I remember that."
Phil grew up doing construction with his dad. "He was a weekend builder, and we were always remodeling the house, building a deck or putting in a brick patio -that's what he enjoyed. So when I started doing construction after high school, he was on board. In 1990, I got my contractor's license, and in 1993 I moved to the Peninsula, where my cousin had a project for me to work on. He worked at Hewlett Packard, and soon I started building homes for other people from HP. I just planted myself on the Peninsula and started building." Greg lives in Burlingame, where he grew up and met Jennifer, his high school sweetheart. Parents and extended family live close by, which is great for their young daughters, Zoe and Nora.
Either Greg or Phil is involved in some way with every job the company does. Phil also does most of the estimating for the firm, and Greg started and leads the company's Home Preservation Division. "With twenty years of experience in Hillsborough, this neighborhood is our niche, and we have a very good reputation here. Referrals come from architects, our end users, and through our website, http://wilkinsonconstructioninc.com/. We do tear down and excavation, have a general engineering license, and like to do jobs where we can use our equipment. We do heavy foundation work, framing, finish carpentry, and tile work. From clearing the land to paving the streets and building the buildings, we can do it all."
Reflecting on the biggest business changes they have seen recently, Greg says, "Designs are more sophisticated and complicated. There is more steel being used, not only because of seismic requirements but also because of the demand for glass. People want the feeling of bringing the outdoors in and indoors out, with giant walls of glass, which requires more engineering." Graniterock Building Materials supplies beautiful natural stone products, which serve as a counterpoint to the glass in many of these designs.
"Smart homes are becoming more common, and with technology changing so fast it becomes a moving target. When a house takes two years to build, you want to wait until the last moment to decide on technology features, because it is hard to tell now what is going to stick into the future."
A great advantage of the partnership Phil and Greg share is that it gives each the flexibility to take time off to enjoy the active family vacations they love. Phil likes to fish, and competes as a dirt bike rider at courses in the Hollister Hills and the Sierras. Greg enjoys scuba diving, rock climbing, and just about any outdoor activity, and he and Jennifer take theirs kids everywhere they go. Their families share a vacation home at Lake Tahoe, where they like boating and water skiing.
Clearly, the compatible partnership Greg Scopazzi and Phil Wilkinson share at Wilkinson Construction is based on a trusted friendship, a value Graniterock is happy to share with this Friend of the Family.
Back to all Blogs