Friends of the Family: TARC Construction
Posted by John Wilshire on Mar 18, 2015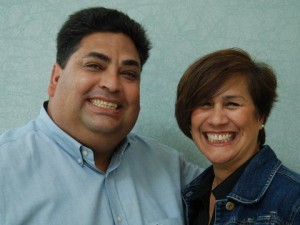 When Albert Cavazos started up TARC Construction, his goal was to have a family business to share with his young sons. Ten years later, Albert and his wife Tamara have met that goal and then some. They are rightfully proud of a thriving business that now employs thirty people, including a growing segment of their family. "Sons Francisco and Dante work in the sales division, my brother- in-law is fleet manager and keeps our equipment running and my daughter-in- law is starting work Monday," says Albert, who loves the fun of finding high energy people, bringing them into the business and training them to do things the right way – the TARC way.
TARC Construction is an asphalt and concrete maintenance company which resurfaces and builds parking lots and related structures for shopping centers, residential communities and industrial complexes within the greater Bay Area and on into California's Central Valley. Albert credits Graniterock's Rich Sacher for advising him to start slowly, and now the TARC business is successfully growing and evolving. "It is a challenge trying to keep up with the growth," says Albert. You need to keep adding good trucks and equipment to keep up. We are having a fantastic year so far."
Albert credits his experience playing team sports, where he learned the importance of teamwork, being on time, working hard, and all the responsibilities that come with being an athlete. Soon after leaving baseball, a friend got him started with a job in asphalt sales, later he met Tamara, and when her job brought them to California he too continued his career and set up shop.
Today, celebrating TARC's 10 year anniversary, Tamara runs the business office and handles financial operations, including accounts paperwork, invoices, waivers and job analysis. Although her background is in media advertising and sales, she has found her niche as her husband's partner in the business. "He has identified his job and I've found mine," says Tamara. "We all know what our roles are – and we enjoy running a family-owned business."
The Company's sales office and yard are located in Fremont, in two separate locations. Tamara and Albert live in Santa Cruz and enjoy living near the ocean, getting together with friends, listening to live music and going out dancing at places like the Crow's Nest on Saturday nights. "We work together and need to have a balance, so we like hanging out together on the weekends – we're always together," says Tamara.
The Cavazos are excited about the bright future they see for their business. "People are feeling more comfortable with spending the money necessary to repair their facilities," says Albert. "Jobs are larger now and customers will pave their entire parking lot where before they would just do seal coats and patching.
Marshall Pilkington is a great salesperson for us, as is Francisco Martinez, who holds a Contractors A License and serves as TARC's Plan Specialist. Luke Haynie handles day to day paving and concrete crews and scheduling." Tamara adds, "Luke knows the industry so well it allows Albert to be out finding new projects."
"We really enjoy the partnership we have with Graniterock," comments Albert. "Trucking and asphalt packaged together makes it easier for us, all we need to do is pave. We love both the materials and the people." Reflecting on their past ten years of business, Tamara says it has been Albert's passion that has made it all possible. 'He loves what he does and the people he has working for him, he is motivated by helping people - people with mortgages and families - to make a living. Albert has a big heart."
Back to all Blogs