Friends of the Family: Half Moon Bay Grading and Paving
Posted by Shanna McCord Crigger on Mar 31, 2015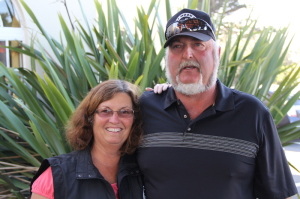 February and March are supposed to be the slow season, a time with fewer projects that often gives the construction industry a chance to plan ahead, upgrade equipment and maybe allow for vacation.
But Gary Giovannoni and his wife Cindy, owners of Half Moon Bay Grading and Paving, haven't seen a pause in projects coming their way.
With the dry weather and major infrastructure investments being made around the San Francisco Bay Area, they're inundated with bids and jobs to the point a lunch interview was out of the question.
The couple found time to meet for dinner one evening after work.
"It hasn't slowed down for us," Gary, 59, said. "We're crazy busy right now."
Half Moon Bay Grading and Paving has been a loyal Graniterock asphalt customer since opening its doors in 1977 with Gary's father George at the helm.
A year later, Gary took a loan and bought into his father's business, working together until George, now 88, retired in 1987. His brother George Kenneth was a partner in the family company until he died in November 2013.
Gary's sons John, 32, and Gary Jr., 31, couldn't help but follow the tradition. The company's specialty is paving city streets and county roads, typically jobs that call for around 500 tons of asphalt.
"I've been around paving all of my life," Gary said. "I was always with my dad as a kid. I'd spend my summers with him going out to jobs every day. My sons did the same thing. I'd take them out with me on weekends."
Gary, who estimates the jobs and isn't shy about jumping on a roller, is committed to Graniterock because of the high quality asphalt and dependable customer service he's received over the decades.
He's maintained close relationships with Graniterock sales representatives through the years.
"Graniterock has the better product," he said. "If there's a hiccup, all I have to do is pick up the phone. The support from Graniterock is really really great."
Gary and Cindy, Half Moon Bay natives whose families are both Italian and Portuguese, met in elementary school but didn't date until after high school.
As a hot rod enthusiast and owner of a 1956 Chevy truck and 1937 Plymouth coupe, Gary would take Cindy on dates to the drag races in Fremont early on. These days they spend weekends traveling to classic car shows, including the popular Hot August Nights in Reno, Nev.
Gary enjoys doing most of the car restoration work himself when he's not hunting or spending time with his two grandsons.
The only time Gary has stepped away from the business was during an 18-month battle with bone cancer in 2005 that required chemotherapy, radiation, a bone marrow transplant with his own marrow and surgery to remove a tumor from his spine.
He has a clean bill of health these days, but takes nothing for granted, especially the love of his family and a thriving business.
"The kids really stepped up when Gary had his cancer," Cindy said. "We're very blessed."
Back to all Blogs