Ed Boland of Ridgeline Concrete Corporation
Posted by Ralph Quintanilla on Mar 18, 2015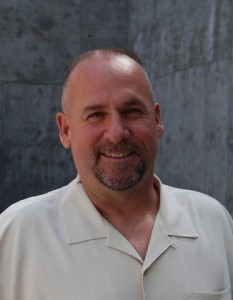 Ridgeline Concrete Corporation has a strong reputation for building some of the most challenging structural concrete projects in southern Santa Clara County. "We're known for taking on hard-to-build jobs for a boutique clientele," said Ed Boland, who founded his company in 1987. "We have built a niche with our work on high-end custom homes, and we also do historic preservation of special homes and businesses."
Ridgeline takes on interesting restoration projects, such as lifting up and installing new basements and foundations in historic buildings. Two recent examples are the 1920 Julia D. Morgan house in Saratoga and the Sorenson Plumbing building, which is the last remaining wooden structure to have survived the Great Los Gatos Fire of 1901. Other projects involve creating new residences for clients with unusual architectural features and special engineering and concrete construction demands.
While attending San Jose State, Ed wasn't contemplating a career in construction. He grew up in San Jose's Almaden Valley and played football at Branham High School. His coach offered him a summer job with Whiteside Construction, and he worked there as a laborer during the summer while in high school and college. After Ed earned his business degree he went to work for Honeywell Corporation, but after only five weeks realized he wouldn't last inside an office. Ed wanted to work outdoors, so he left Honeywell, got his contractor's license and started Ridgeline Concrete Corporation.
In 1990, Ed was doing a job in Redwood City and decided to try Graniterock concrete. "After that, I never looked back," he said. "With Graniterock there are no headaches, no trauma and no games. You can't ask for a more professional outfit. It is hard enough to get the job done on my end; I don't want any problems with my suppliers. If there is a problem, it's nice to know I can go down and talk in person with someone to get it solved."
Ed truly loves his work. "Each day is different, and every job is different." He describes a recently completed project in the Los Gatos hills. "It was a really neat job. Just to get to the 25-acre property we had to build a 130-foot-long bridge. The project included a duck pond and barn." In many areas, local neighborhood codes restrict building heights, and extensive concrete basements are built so clients can have space for special features, such as indoor gyms and theatres. "We've done everything from virtual golf courses and full squash courts to underground shooting ranges," Ed said.
Adhering to California's seismic building codes, while also creating unique projects, requires Ridgeline to work closely with Graniterock's Research and Technical Service Team (RTS). "Almost every job we do has special mix design demands that require assistance from RTS." Foundation details can make the jobs challenging. Extensive forms and rebar use require flowable concrete mixes so the concrete can get into all the nooks and crannies, and not leave voids when the forms are stripped. In addition, concrete must be very high strength.
Spare time is precious. This year, Ed and his wife Jennifer have been spending a lot of time with their daughter Katie, a senior at Saint Francis High School in Mountain View, visiting prospective colleges. Katie has chosen Indiana University in Bloomington, where she plans to study nursing. Ed and Jennifer also make frequent trips to San Luis Obispo, where their son Eddie is in the Construction Management program at Cal Poly. Eddie spends summers working in the business, and Ed says his son would like to return to Santa Clara County and someday take over Ridgeline, but "He needs to go to work for someone else before coming back to our business."
Ridgeline's engineering expertise leads to calls from owners and architects while initial project planning is underway. "It gets us involved in projects really early on," said Ed. Recalling the recent recession, he comments, "We had to adapt to the economy. We picked up flatwork and public projects, which we ordinarily don't do. But because of our size, were able to adapt very quickly. Now that the economy has turned around, our business has taken off and is accelerating fast." Looking ahead, he says the future is hard to predict, but for now he is enjoying the economic boom underway in the region. Graniterock looks forward to a continued partnership with this outstanding Friend of the Family.
Back to all Blogs