Doug Sanders Concrete - Part of the Graniterock Family
Posted by Roger Swenson on Mar 18, 2015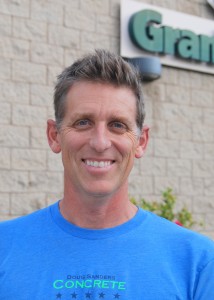 Doug Sanders literally grew up with Graniterock concrete. His dad Larry, now retired, was a loyal Graniterock customer during his career as one of the largest concrete contractors in Santa Cruz County. Doug learned his trade next to his father, playing in sand piles on construction sites as a youngster. "Dad was always 100% Graniterock, I grew up with Graniterock and I can't imagine getting my concrete anywhere else," says Doug. "I've known these people all my life and they are like my family."
Born and raised in Santa Cruz, Doug earned a degree in Environmental Studies from San Jose State University in 1996. He spent a few years in this profession, but eventually realized that what he really enjoyed most was working with concrete. Although Doug worked for his dad for a short while to "learn the business end of things," Larry encouraged him to make his own way in construction. Doug started his own company, Doug Sanders Concrete (www.dougsandersconcrete.com) in February of 2000, and for a few years he and his dad were friendly competitors.
Although Doug does all kinds of concrete work, he loves creating unique outdoor living spaces for the mostly private clients he serves. He particularly enjoys working with owners, architects and designers to build decorative concrete projects. "People are getting more and more creative with concrete," Doug says. He specializes in patios and outdoor kitchens, concrete bars and counters, curved benches and outdoor seating spaces, colored, stamped and patterned concrete and all types of sculpted designs.
Doug works close to home, primarily in Santa Cruz County, where he lives with his wife Jamie and sons Hayden, 13 and Tristan, 9. "I love to surf with my kids, and love to fish," Doug says. Although he once competed in bass fishing tournaments, now he prefers ocean fishing in the bay or surf fishing down by the Santa Cruz harbor. Doug enjoys life next to the ocean, lives a half-block from the beach, and with both Jamie's and his parents nearby, they enjoy their time together with family.
Doug says he did not experience a downturn in business during the last recession. "Every year has been better since we started fourteen years ago. People are spending the money to have it done right, and they are willing to pay for a good quality product. In the future, I think concrete will become even more important, and used in interior design more than ever before. Concrete lasts forever and you can do a lot with it."
Commenting on his long relationship with the people at Graniterock's Santa Cruz branch location, Doug says, "Graniterock carries the right products for us, and call backs are few and far between. I love working with the Santa Cruz office. Everybody knows my guys, knows what to do and we are well taken care of. It seems like kind of a small family where we all feel comfortable working together."
With most of his work concentrated within Santa Cruz County, Doug keeps his company small and takes pride in working side-by-side with his crew to create beautiful projects. "I have a passion for concrete, and doing decorative concrete is super rewarding," Doug says. "I wouldn't change it for the world." Pride in his accomplishments, appreciation for family and passion for doing great work are values Doug shares with people at Graniterock, and these values make him a great Friend of the Family.

Back to all Blogs