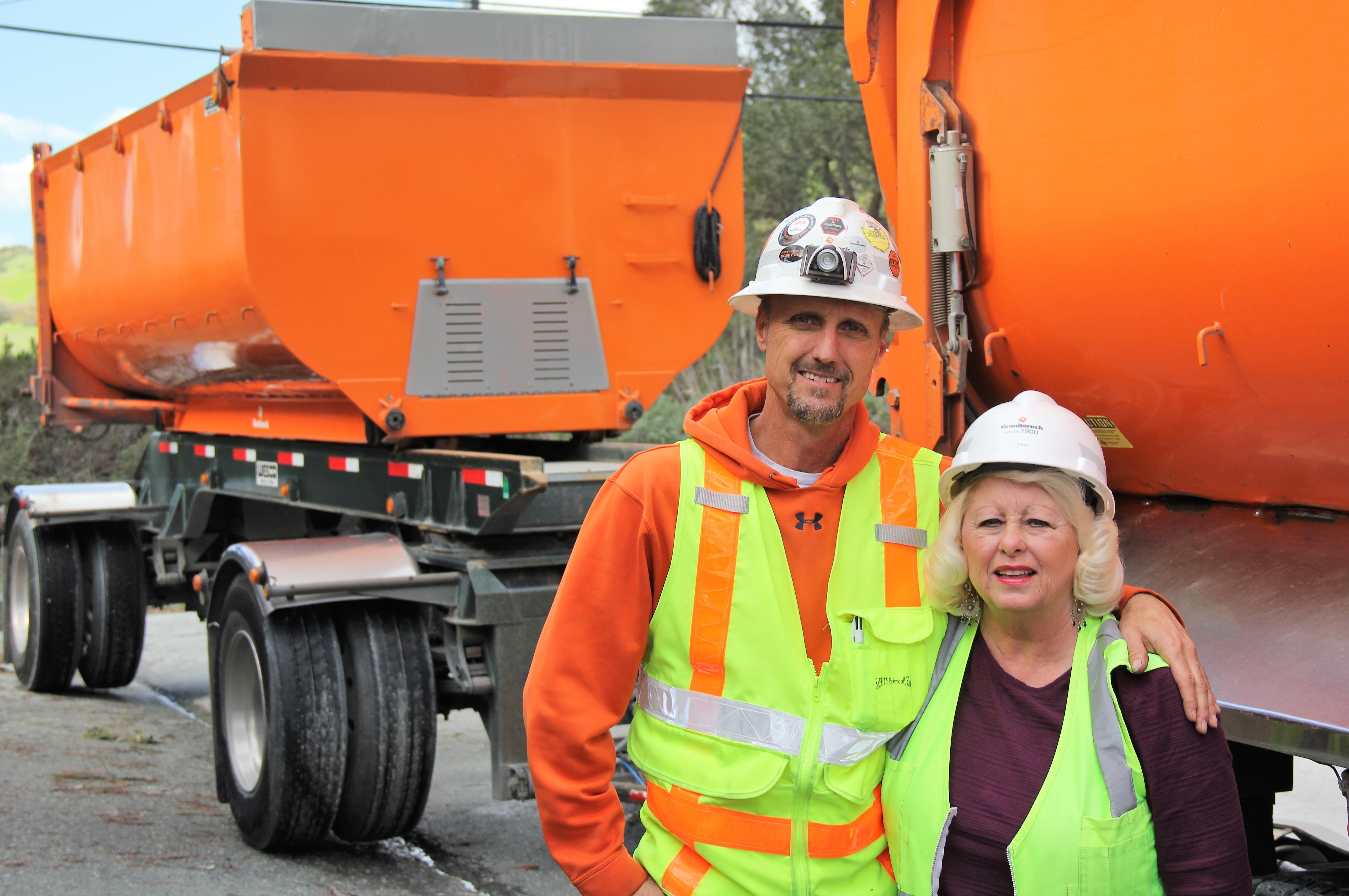 Constrution transfer truck drivers build lasting friendship
Posted by Shanna McCord Crigger on Feb 6, 2019
AROMAS – Ricki Mancebo and Dave Engelking built a rock solid friendship over thousands of miles and a CB radio.
The two most senior drivers on Graniterock's transportation team – with a combined 70-plus years' experience – pull construction materials up and down northern and central California behind 65-foot-long, triple-axle transfer trucks.
Individually, they can log up to 400 miles a day.
"There isn't a road out there that can take either of them by surprise," Graniterock dispatch manager Chago Ramirez said. "If it's a seemingly impossible location, this is who goes. We have customers who will wait for them to be available."
Dave and Ricki might only cross paths in the morning at the Graniterock yard in Aromas during pre-trip inspections and fueling up for the day. However, the two talk shop and banter back and forth all day long on the two-way radios inside their Mack cabs.
They see eye-to-eye on road safety, truck maintenance and how to best navigate the narrow, remote dirt roads they frequently find themselves on while delivering material for Graniterock customers.
Because they have repeat customers in far flung, hard-to-reach locations with no real street signs or address, Ricki keeps a journal in her cab in which she jots down details such as "turn left at the dead tree," "park trailer in the lot next to broken fence south of house" and even private gate codes.
She shares those details with her team to make it easier for them to find the job site on the next round.
The experience accumulated behind the wheel means Ricki and Dave are often tapped to train new drivers coming into the company, sometimes spending a month riding shotgun with a new hire as guide and mentor.
"We have each other's backs all the time," Ricki said of the entire 30-person transportation team. "If there's an issue on a job site, it reflects on all of us. We're here to build confidence, not tear each other down. As part of our Graniterock culture, we want to give back the mentoring and help that has come our way, not only to Graniterock drivers, but others within the trucking industry as well."
Dave, a Scotts Valley native who followed his father's trucking career, started with Graniterock as a subhauler in 1987 and joined the company in 1997.
He considered going to college to become an architectural engineer, but discovered he enjoyed trucking more.
His engineering skills have been put to good use designing a couple of homes, including the blueprints and engineer work for a second story on his own house.
With a Class A commercial driver's license since age 19, it's not surprising Dave's a calm, steady hand at the mechanics of unhooking the trailer, dumping the load and re-hooking.
Depending on the job site, particularly if it's flat and spacious, he can make the transfer in 15 minutes.
He makes the process look easy, though driving transfer trucks is one of the most difficult and technical jobs in commercial trucking.
"We try to get the trailers as close to the job site as possible because time and money are on the line," Dave said. "Over the years you learn all the places you can park your trailer. It's like a puzzle. We're always strategizing and trying to find safe, level ground to park the trailer. Google Earth is our friend."
Ricki, also born into a Santa Cruz County trucking family, defies any stereotype of someone who hauls rock and sand for a living, with her teal cowgirl boots and perfectly polished nails.
It was her mother who encouraged Ricki to join what was then, and mostly still is today, a man's world.
"But it was my dad who had the patience to ride it out from the passenger's seat with me," Ricki said. "You had to prove yourself as a woman, and I always did. I wouldn't have stayed with this field if not for Graniterock's culture and mentoring. This company makes you feel like you're more than a truck driver."
She's equally skilled – or better – as any male truck driver, having learned the ropes of commercial driving at a young age from her father John Mancebo, a former Graniterock subhauler, who retired in 1991 after 37 years of pulling for Graniterock.
Ricki, a Felton resident, spent her early driving years helping her father deliver sand for Graniterock at night. She also delivered gasoline and hot oil for Conoco/Douglas Oil Company on weekends, all of this while working a full-time accounting job at Santa Cruz Lumber in the 1970s.
She turned to driving for Graniterock in 1978, making her the company's longest serving woman driver in its 119-year history.
If Ricki, who has also driven bottom dumps and pneumatics, hadn't fallen in love with trucking, her other plan was to continue her education at UC Davis and become a veterinarian.
"I really love to drive," Ricki said. "The challenge of the job and exceeding our customers' expectations have certainly made me a better driver. There is a personal satisfaction of doing a really good job for our customers, and that's why my passion for trucking has stayed strong all these years."
Ricki and Dave are big supporters of Graniterock's community involvement, and can be seen talking with students about construction careers at job fairs and other events such as the Bruce W. Woolpert Algebra Academy.
One of their favorite deliveries is the base rock donations Graniterock occasionally makes to the horse rescue nonprofit Equine Rescue, especially for Ricki, a horse lover and cowgirl at heart.
"I've always loved horses. I used to barrel race and rode in the 100-mile Tevis Cup in the 1960s," she said. "It's been a real ride."
Back to all Blogs