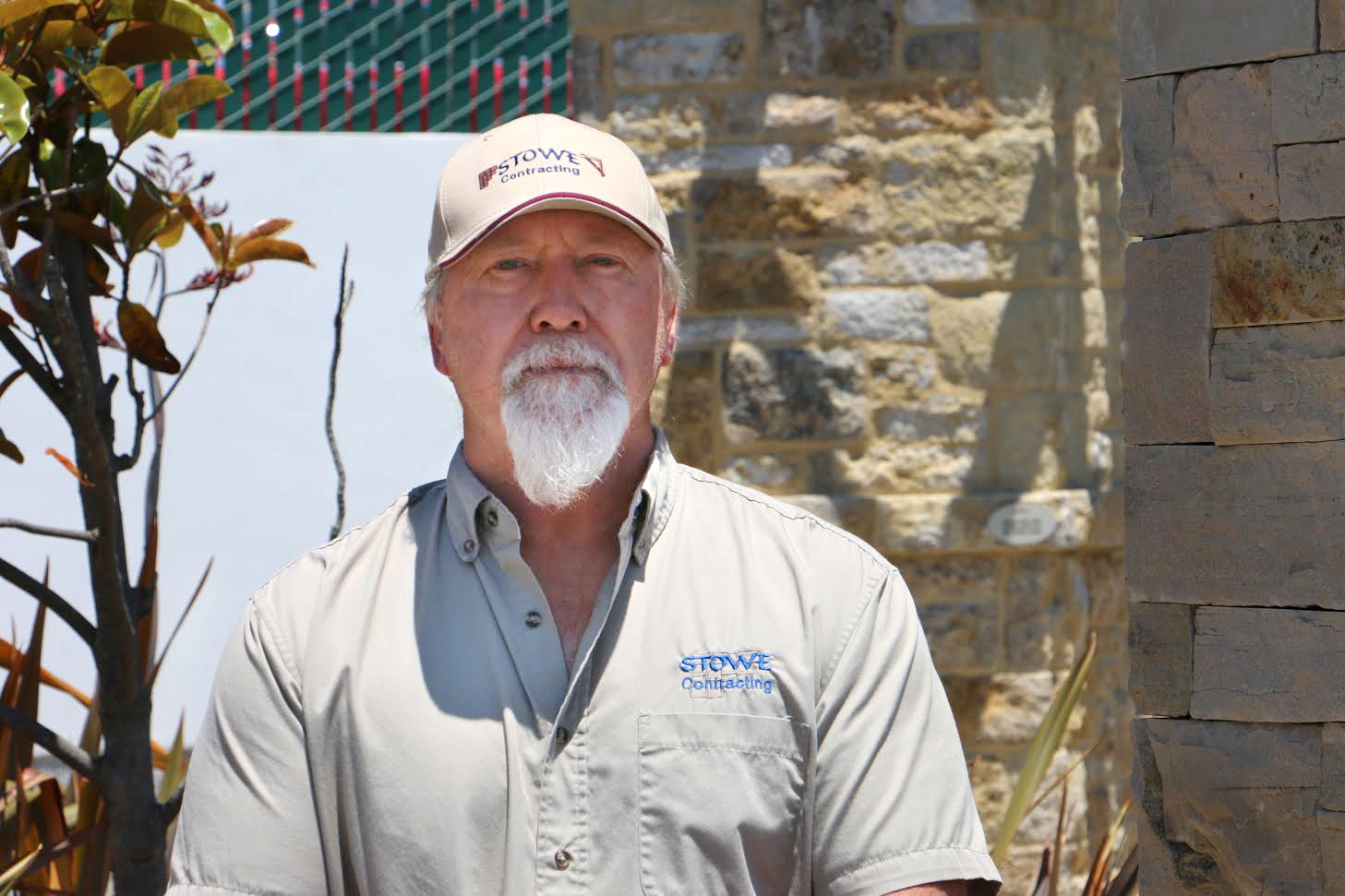 Construction Rock Star knows stone pavers better than almost anyone
Posted by Shanna McCord Crigger on Jul 12, 2019
SEASIDE – As soon as Y&T exits the Santa Cruz Beach Boardwalk stage Aug. 2, Walt Combs will be getting cranked up across the street at Coasters Bar and Grill with his heavy metal band Hammer Down.
Like past summers Hammer Down has followed Y&T's Boardwalk show, the Coasters' crowd will be standing-room only to hear Walt and two high school friends – Todd Townsend and Bryant Miller – play out their childhood fantasy.
Walt was a kid born and raised in Moss Landing who dreamed of becoming a rock star, so badly wanting to follow the lead of sensations Judas Priest and Black Sabbath.
The odds of that kind of fame are slim for anyone, so Walt, 54, decided to keep the guitar as a hobby and instead become a construction rock star.
Specifically, he excels at installing pavers for Stowe Contracting, where he's worked nearly 30 years and serves as the Marina-based company's paving stone superintendent.
"Walt is great to partner with on projects," said Cathy Francini, Graniterock's purchasing agent who works with Walt on all of his orders. "I've worked with him for many years now, and he leaves no room for error in his work. And he's an all-around nice person, too."
Walt started as a laborer, moving equipment and pounding nails back in Stowe's early days doing general home building and remodeling.
A turn in the economy that hurt the construction industry in the early 1990s forced the company to pivot and give pavers a shot.
The short story is stone paver installation took off throughout the Monterey Peninsula, particularly with people looking to take their home to the next level, and never slowed down - now making up about half of Stowe's overall business.
The family-owned company has been involved in many high-profile projects, including large hotels and a 30,000-square-foot paving stone project for the former Chateau Julian in Carmel Valley (now Folktale Winery).
They were also part of the 100,000-square-foot, stone-covered Taylor Farms headquarters in Oldtown Salinas, which has helped revitalize the area since it went up in 2015.
Walt describes stone paving as "very creative work, like painting with heavy stones."
As the guy in charge of Stowe's bustling paver business, Walt works mostly with homeowners seeking to renovate or build new patios, driveways, walkways and retaining walls with natural stone.
The type of projects he's called for aren't run-of-the-mill, and not for penny-pinchers.
Picture a mansion on Pebble Beach's 17-Mile Drive with a 15,000-square-foot driveway or a retaining wall that wraps around the entire ocean-front property.
His clients want the best products and expect flawless service.
Stowe's clientele for paver projects tends to be very specific about materials and how the finished project should look, like the homeowner who specified his 5,000-square-foot driveway be paved with black basalt cobbles.
And, the Carmel woman who started each day with an email loaded with questions about what the crew would be doing, and often stood watch while they worked.
Walt has had customers ask for reclaimed materials sourced from demolition of historic buildings on the East Coast, which doesn't even make him blink.
He's happy to do anything the customer asks, which is essential when the majority of his paver business is word-of-mouth and repeat clients.
"If you're not a people person, it's kinda hard to win somebody over. At the end of the day we're selling our labor to fix up their place," Walt said. "Gary Stowe has instilled a perfection mentality at the company. If you're going to do it, do it right."
For Walt, the key to a successful project is listening to what the customer wants and finding a way to deliver their vision.
The payoff comes in looking back at completion of a beautiful, quality project, and the surprise of a five-star Yelp review from a client expressing gratitude for a job well done.
"I just like to create and build relationships with my customers," he said.
When the work gets stressful, which it often does, Walt pulls out his guitar and rocks out.
"Music is the release of the pressure of everything else," he said. "It keeps me wanting to excel."
Back to all Blogs