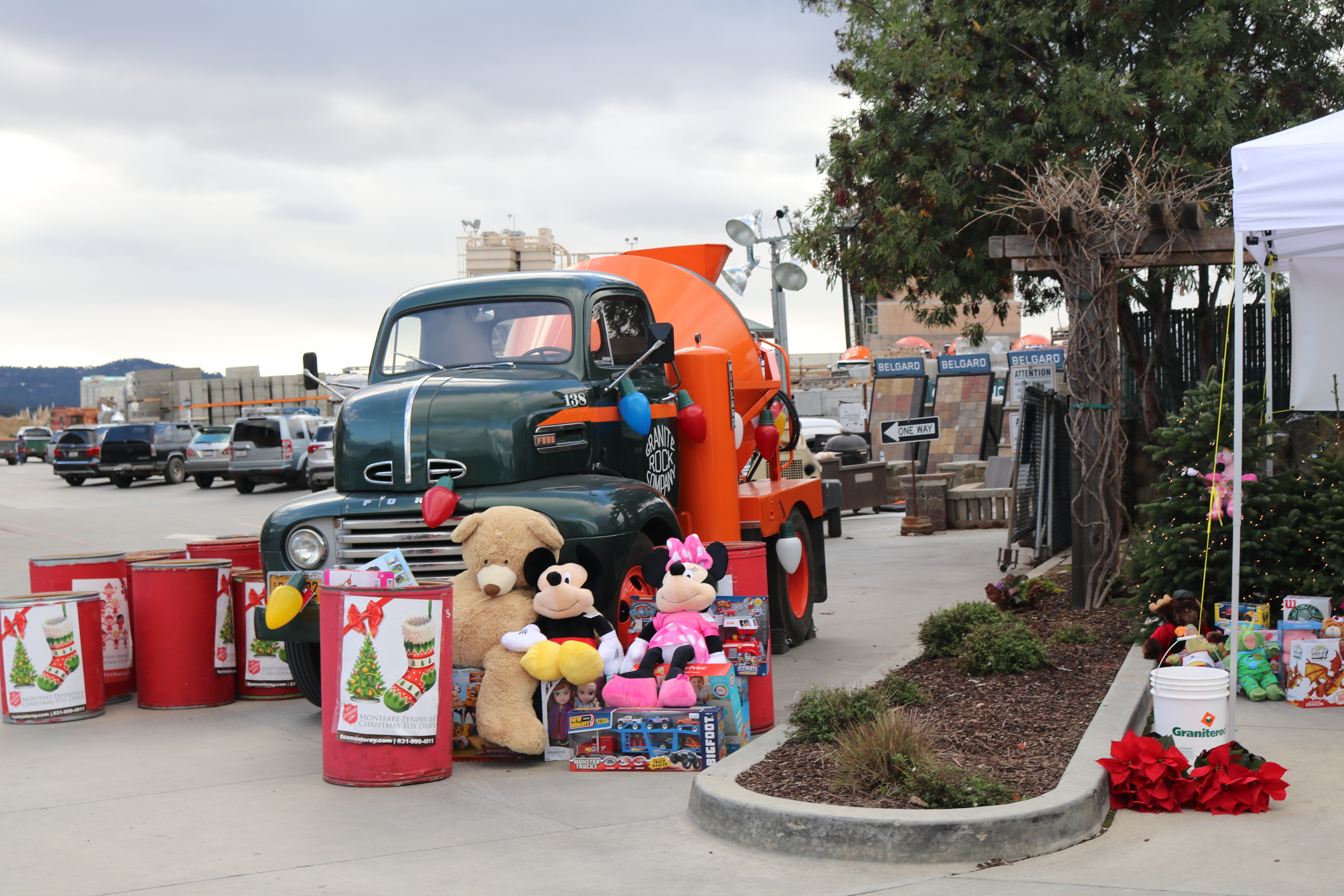 Construction industry shows up strong for KSBW's Share Your Holiday
Posted by Graniterock on Dec 12, 2019
The annual Share Your Holiday collaboration between Graniterock, KSBW and the Salvation Army was an event for the record books.
In all, Share Your Holiday throughout Santa Cruz, San Benito and Monterey counties raised more than $168,000 in donations, nearly 7,000 pounds of food and 4,900 toys for families in need.
This tremendous outpouring of holiday spirit was demonstrated by the following team members:
Robin Steudler for serving as the ultimate cheerleader and organizer for Graniterock hosting a Share Your Holiday site and her work in rallying volunteers from across the Company (and customers too!).
Keith Severson for his unstoppable enthusiasm throughout the day and evening. His homemade pizzas, hot dogs and s'mores were the show-stopper.
Bill Zielazowski for assisting Keith at the cook station.
Cathy Francini for being there every step of the way and directing traffic.
Angel Arriaga for thinking outside of the box and not only wanting to volunteer her services, she reached out to the Construction Division and made sure they were aware of Share Your Holiday and encouraged them to take part: Ray Espino, Ralph Arriaga, Francisco Ramos and Cipriano Rivera.
Lex Cash for being a phenomenal photographer.
Elden Davis for making sure the light standards were delivered.
Tom Treanor, Karen Hagen, Terri Baker and Steve Snodgrass for their time and energy.
Mark Treanor for making sure we had proper coverage during the day (we remained open for customers) as well as cleaning up at the conclusion.
Michael Mancha for plaing Santa.
Brandon Anundson and Junior Carrasco for your tireless efforts throughout the afternoon and evening.
The unsung heros who weren't able to see much of the action due to providing the best customer service during the day to our customers: Rich Pina, Nathan Godinez, Fernando Hernandez, Matt Stuck and Ernie Buenrostro.
Our yard men and drivers that kept everything fully operational: Arnie Hernandez, Juan Leon, Gil Nunez, Julio Sanchez, Rudy Valdez and Henry Villareal.
Customers: Kelly Howell of Kelcon Construction, Rose Bruno of Terra Bella Landscaping, Paolo Manca of PM Landscaping, Patania Masonry, Steudler Masonry, Marc Bordonaro Construction, Security Shoring Company and JDS Plumbing.
Their efforts counted for 77 bicycles as well as 500 toys!
Back to all Blogs