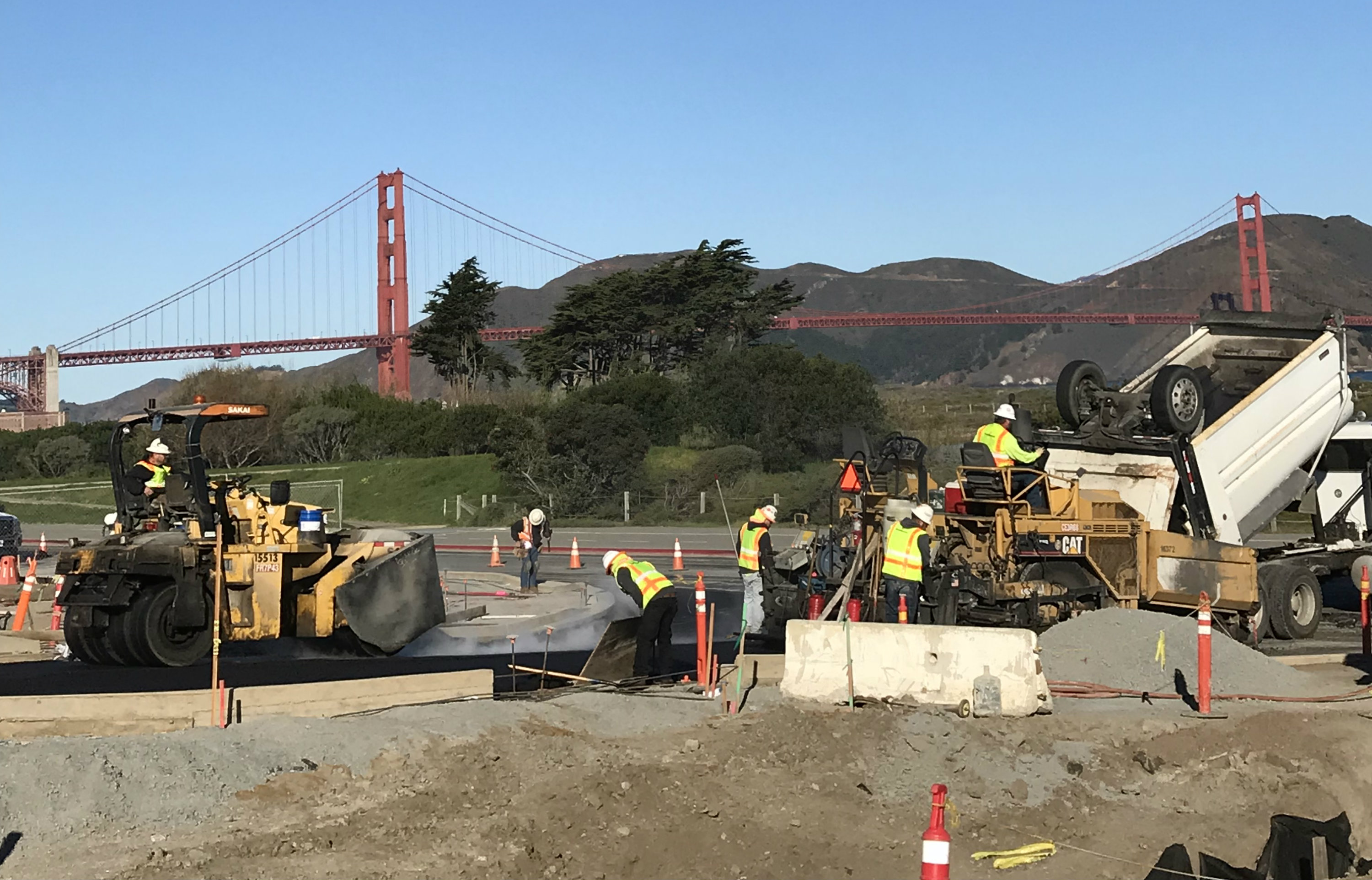 Construction in the Presidio beats expectations
Posted by Graniterock on Mar 28, 2018
SAN FRANCISCO –The San Francisco Presidio Parkway project is another testament to the Construction Division's ability to answer the call for tight schedules and constant change, and exceed client expectations with strong communication.
The team has been working on a piece of the public-private partnership, led by developer Golden Link Concessionaire, to transform the heart of San Francisco's Golden Gate National Recreational Area from a closed military base to a public park.
This project under construction with the Flatiron/Kiewit joint venture is California's first public-private partnership on a transportation project.
"The project has turned out be great work for our team, and kept us busy through the winter," Superintendent Nate Inman said. "We've done it in a way that Flatiron looks forward to furthering a relationship with Graniterock."
Graniterock's portion of building phase two of Presidio Parkway started with mass excavation under the two new high viaducts to establish grade for a major landscaping project.
Removing 7,000 yards of dirt and establishing finish grade for the slopes required the crews to use a total station due to poor reception with the GPS. Graniterock crews typically use total station for paving airport runways because the technology allows for tighter tolerances.
In this case, the total station was needed because GPS struggled for a signal under the large viaducts, Project Manager Erik Cushman said.
"Our GPS team was a huge help on this job," Erik said. "We truly appreciate all of the work they've put in on this."
The next scope of work was grading, base rock and paving six large parking lots across from Crissy Field with a total of 10,000 tons of standard dense grade mix from Graniterock's plants in Redwood City and South San Francisco.
The One Company collaboration on mix quality and delivery, with Sergio Rubio working closely with the Graniterock road materials team, helped deliver a "superb" paving project, Nate said.
All along there have been frequent changes to the scope of work from the joint venture leaders, which Erik and Nate have been responsive and accommodating.
"Our communication has been a strong point, always being transparent and timely with responding to their needs," Erik said. "The job has changed a lot, and our crews have been able to react accordingly."
A big thanks goes to everyone who has helped make this work successful: Gabe Flores, Kenny Whitehead, Chris Silva, Eric Vallejo, Eugenio "Junior" Saavedra, Fred Schmidig, Jimmy Villalobos, Jeff Pring, Arnulfo Chavez, Jose Delgado, Aldo Hernandez, Michael Jackson, Denny Reed, Ben Lewis, Vicente Rubio, Eric Younger, Greg Robison, Dan Enachioaie, Jason Smyth, Michael Vaz, Sergio Rubio, Robert Lauderdale (and his entire crew), Graniterock road materials team, Pat McDonald, Angie Melnikoff and Bill Moody.
((Note: The $1 billion years-long project, in its second and final phase with the Flatiron/Kiewit joint venture, included replacing the 1.6 mile Doyle Drive that connects San Francisco with the Golden Gate Bridge. Graniterock supplied the asphalt for the building of Presidio Parkway in 2015.))
Back to all Blogs