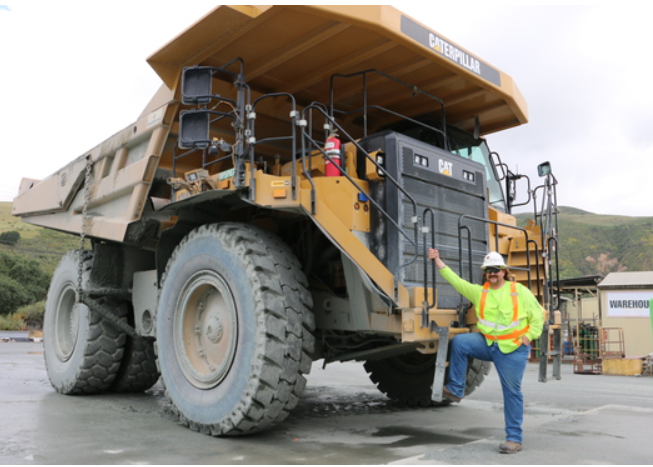 Construction haul truck driver says 'It's like putting a steering wheel on top of your house'
Posted by Shanna McCord Crigger on Jul 19, 2019
AROMAS – Tracey Rego drives a mining haul truck – the size of a two-story condo – like other people drive a Prius.
His comfort level and attention to safety at the wheel of Caterpillar's 777G have been built over several decades, beginning with pulling horse trailers on his family's property while growing up in Aromas.
"I could back up a horse trailer before I could legally drive on the road," said Tracey, Graniterock's second most senior haul truck driver. "People say they choose their careers, but this career chose me. I've always been good at driving."
Tracey, who started at Graniterock 19 years ago, is one of nine haul truck drivers at the Wilson Quarry piloting the 20-foot-tall, 22-foot-wide trucks with a bed that holds 100 tons – primarily rock, sand and dirt.
His haul routine typically goes something like this: Pull up next to a 992K loader waiting next to a stockpile with a full bucket to pour into the truck bed, get loaded, then drive off through the quarry's graded roads to bring the materials wherever needed.
This happens up to 50-60 times each shift.
"Tracey is very safety conscious, but at the same time efficient with hauling and doesn't waste any movement," said Jeremy Hunzie, Graniterock's primary manager. "The haul trucks affect every part of our operation at the quarry, allowing us to mine multiple cuts and blend different products."
Tracey's role, along with his haul truck teammates, is essential to mining operations as the trucks are quick and nimble – and exceptionally strong with a V12 engine and 1,000 horsepower – in ferrying rock throughout the 2,000-acre quarry.
They travel to the primary crusher, secondary plant, stockpiles, overburden area where stripped material is taken and Graniterock's nearby asphalt plant.
Most recently, the haul truck team has been carrying base rock from a stockpile to the quarry's water recycle plant for building a road that allows vehicle access for construction of a new over-land conveyor belt.
"We're one piece of the puzzle," Tracey said. "We support the primary and secondary plants with material so they can run at night. Nobody's job here works without the support from others. We all work together, but I have to start with my part."
The haul truck cab feels like a pickup, including plush seats and an automatic shifter that slides easily into drive. A small screen on the upper right corner of the dash displays loaded travel time and total tonnage hauled – 1.3 million tons for Tracey in the past year.
Small cameras and radars are mounted to each side of the truck's exterior for full visibility, sounding an alarm when the truck encounters hazards not seen by the driver.
Tracey, the natural-born haul truck driver, got his commercial driver's license soon after graduating from Watsonville High School in 1990.
He took a job driving a semi, hauling goods throughout California, including bulk cement for Graniterock's concrete plants.
Ten years on the highway was enough; Tracey wanted a job where he could go home every night.
He's thankful to have found that job literally down the street from home in Aromas.
Now when he hits the road it's on his smoke-gold Harley Davidson bagger.
His motorcycle passion has twice led to the Sturgis Motorcycle Rally in South Dakota, where Tracey's in his element with 500,000 other fans riding across the Black Hills from Deadwood to Custer State Park.
Best yet, he says, was the 1,500-mile return home on his bike Tracey decided to do one year when leaving Sturgis.
"It's just amazing to be riding out there," he said. "It's weird how the wind can take everything and give you a clean slate again. I love that feeling."
Back to all Blogs