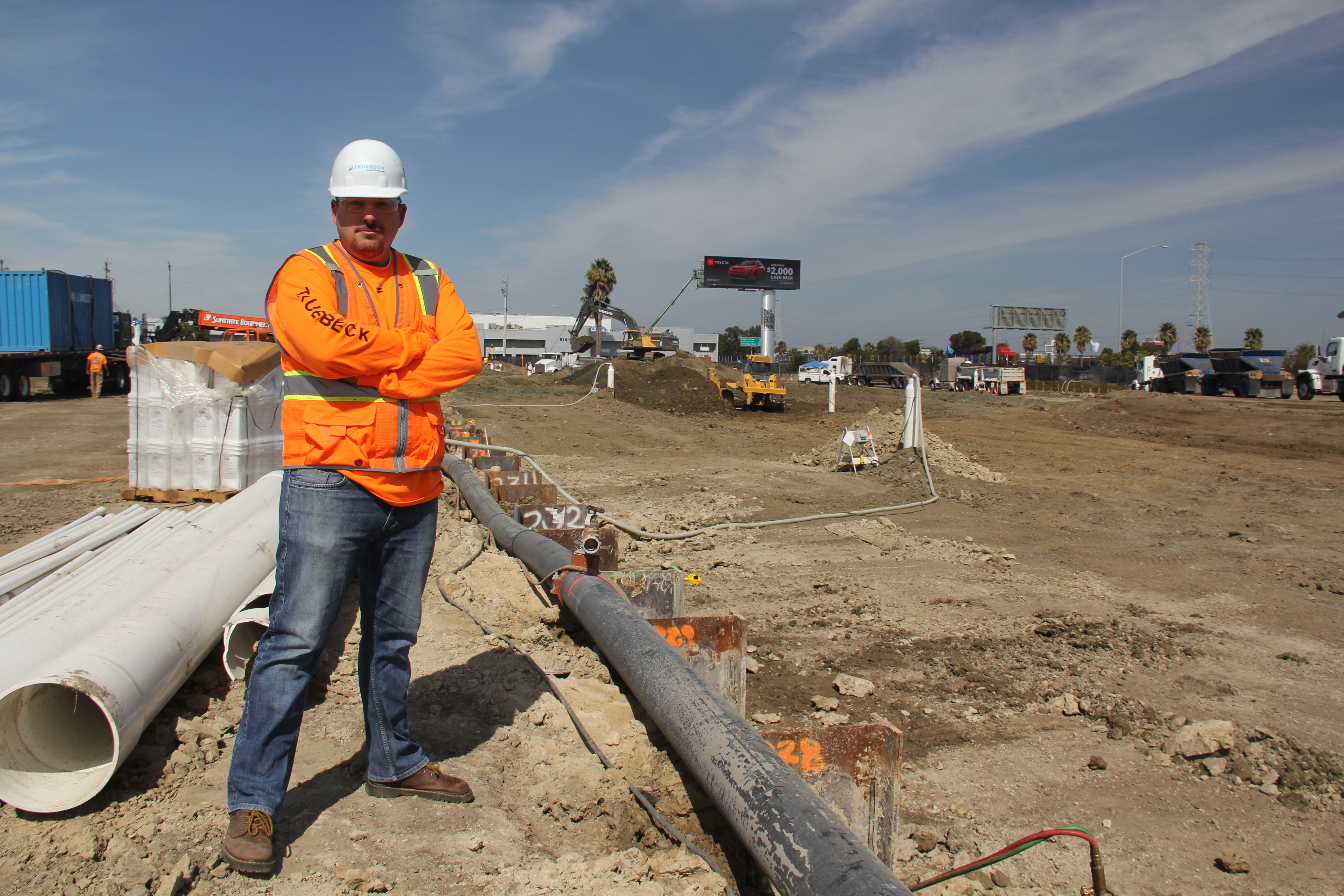 Construction career founded on scouting principles
Posted by Shanna McCord Crigger on Nov 26, 2018
SAN CARLOS – What do you get with someone who has the character and dedication of an Eagle Scout and spent a ton of time playing with Legos as a kid?
Toss in a love for math and physics, and the result is Mike Paye, a senior project manager for Truebeck Construction.
Mike, who earned the Boy Scouts' highest honor while growing up in Eureka, has been part of the San Francisco Bay Area 's commercial building boom since graduating from Santa Clara University with a civil engineering degree in 2001.
He's played pivotal roles in a number of high profile Silicon Valley construction projects, including campus expansions for major tech companies, healthcare providers and numerous new offices, schools, retail outlets and other structures.
"I've found Mike to be a solid advocate for subcontractors and a valued ally in our meetings with the owner," said Graniterock's Jeff Fischer, who has worked with Mike on several challenging projects. "He understands the mechanics of project management, the art of negotiation and the importance of professional relationships. It's also not surprising he's an Eagle Scout."
Mike's job involves managing all of the moving parts that go into building new buildings for Truebeck, a general contractor that thrives in the Silicon Valley's tech culture and embraces an innovative and entrepreneurial approach to construction.
The 39-year-old is involved at every stage of a project from preconstruction to punch list – working closely with the owner, architect, designer and sometimes more than 50 subcontractors on one jobsite.
He makes decisions in the field designed to reduce risk for his client and subs, which can be tricky when budget and time are on the line.
While the owner is the ultimate decision maker, Mike is a pro at figuring out change orders and negotiating how those changes impact the project's budget.
He makes tough decisions about the scope and schedule by putting himself in the other person's shoes and trying to understand their perspective, while going to great lengths to avoid adding cost for the owner.
His expertise transcends the mechanics of construction.
He's known for being honest and always doing the right thing.
"I look at my job as making sure the owner only pays for things once," Mike said. "At the same time, we're only as good as our subs. We'd have no reputation as a general contractor if our subs weren't doing quality work, so I make sure to represent them well, too. It aligns culturally with Truebeck in valuing our subcontractors."
About halfway through college, Mike realized he didn't want to go the traditional route for civil engineers, and was tipped off to construction by a classmate who felt the same.
His first taste of the industry was an internship at Preston Pipelines, a longtime Bay Area utility contractor.
During his senior year, Mike landed what was considered the premier construction internship for Santa Clara students at Rudolph and Sletten, a large general contracting firm involved in notable projects across California.
Rudolph and Sletten hired Mike full-time after graduation, and his three-year tenure there involved being part of the team that oversaw an expansion of Kaiser Permanente's emergency department.
He says the Kaiser project was incredibly challenging, though a great learning experience to navigate the rules and criteria associated with California's Office of Statewide Health Planning and Development, which regulates the design and construction of all healthcare facilities throughout the state.
After Rudolph and Sletten, Mike worked for a couple of other Bay Area general contractors before a friend told him about an opening at Truebeck in March 2010.
At Truebeck, which formed in 2007, he's found his forever work home.
He's enjoyed watching the company grow to 400 employees from just 30 when he started and still adhering to its cultural roots of valuing team members and the community as much as clients.
"This company has never lost touch with its original values," Mike said. "We never take repeat business for granted. With every customer and project, we give them our highest level of attention. It's like we're working as hard for them the first time every time."
While keeping pace with the unprecedented appetite for construction activity under way in the Bay Area, Mike is also relatively new in his role as a single dad to two daughters and a son.
The pressure of work and parenting makes him appreciate being part of a company that values family and allows Mike to balance the need of his children while also taking good care of Truebeck's clients.
He uses his commute from home in San Martin to San Carlos, where his latest project with a biotech firm is in the beginning stages of development, to talk on the phone with clients, colleagues and subcontractors.
When Mike takes a break from work, he's most likely doing something outdoors such as backpacking in the Trinity Alps, wakeboarding, snowboarding or cooking the fish he caught over a campfire.
"I do like to be away from the hustle and bustle," he said. "It's good to spend some time away from all the concrete."
Back to all Blogs