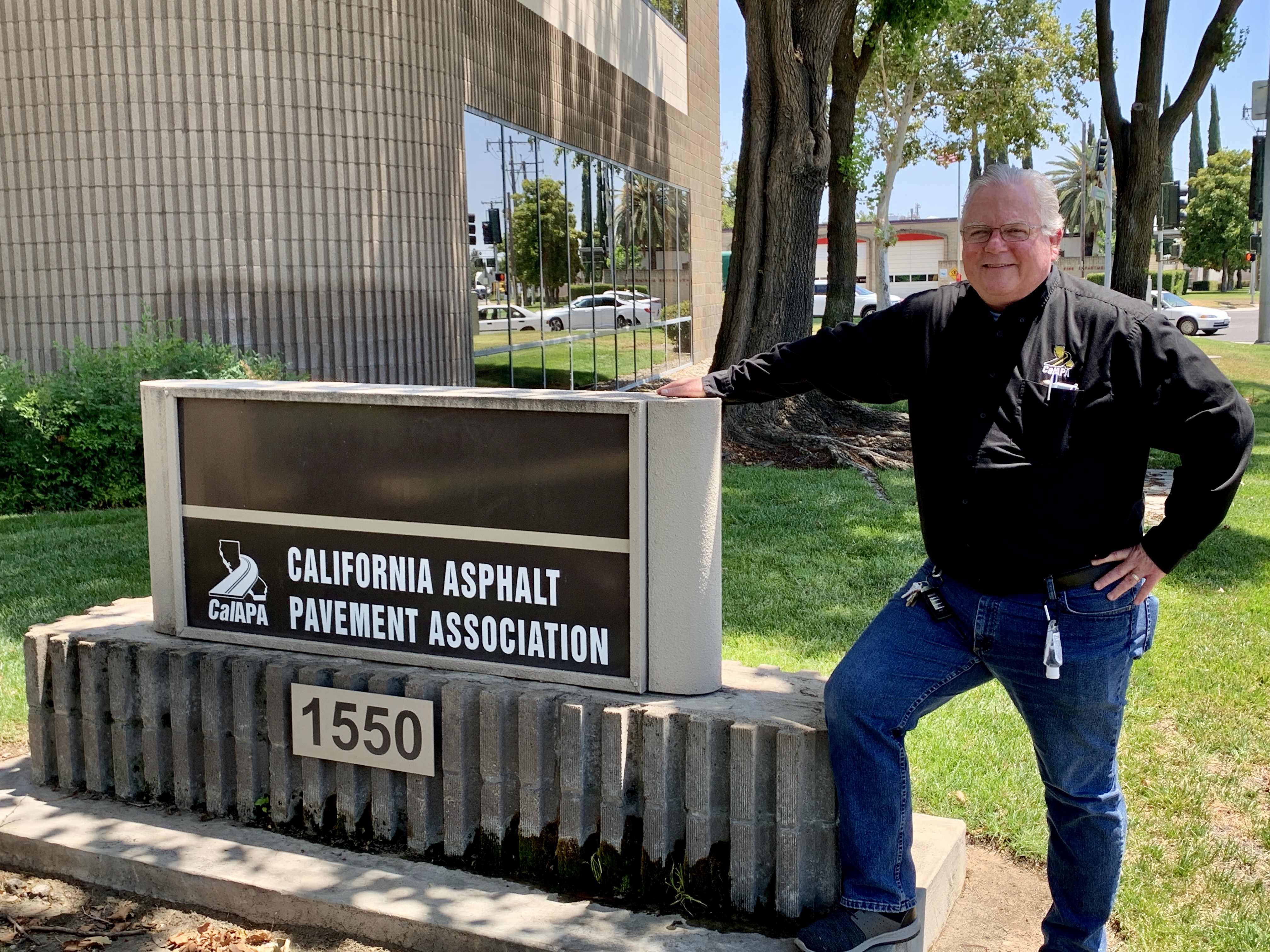 Champion of the asphalt industry wants to spread the news
Posted by Shanna McCord Crigger on Aug 11, 2020
SACRAMENTO – Russell Snyder learned about the power of sharing information in high school.
What the teen witnessed after publishing his first newspaper in the late 1970s, part of an elective class taken simply because it fit the schedule, has stuck with him today as the core of his work heading up the California Asphalt Pavement Association.
"For an entire day everyone's head was down looking at the paper," Russell said. "Seeing people read my stuff, that's how I got the news bug."
The news bug grew stronger through college at Pepperdine, where Russell served as editor of the school paper and earned a degree in journalism.
His reporting career after college – commemorated with a number of press badges framed on his office wall – took Russell from covering Los Angeles City Hall and the Capitol in Sacramento to Washington, D.C.
He's covered prominent events such as Mikhail Gorbachev's visit with then-Vice President George H.W. Bush in 1987 and Nelson Mandela's historic first trip to the U.S. in June 1990.
While assigned to the U.S. Justice Department beat for United Press International in 1991, a public relations opening at the California Department of Transportation caused Russell to rethink his career with the storied but financially-ailing wire service.
He pivoted from news reporter to Caltrans spokesman, a position he held for seven years in Los Angeles and Sacramento, before being promoted to administrative management positions.
Since 2002, Russell has been immersed in state politics and California's construction industry, including stints at the Laborers' Training Center in San Ramon and Associated General Contractors of California before arriving at CalAPA in 2008.
As executive director of CalAPA, Russell draws on skills learned during his former journalism career to promote California's hot mix asphalt industry, share critical information with its nearly 200 members, influence lawmakers and educate the construction workforce on topics that range from job site safety to asphalt mix designs.
"Russell's skills in communication and dedication to partnering have taken CalAPA to new heights over the last decade," said Toni Carroll, Graniterock quality director, who serves as CalAPA vice chair and executive committee member. "We have seen the association's credibility rise considerably and Russell and the association are now sought after for their input on critical construction issues across the state and even the country."
The West Sacramento-based organization is a powerhouse in collaborating with industry leaders, Caltrans officials and legislators while advocating for the people and work of the asphalt industry as key to California's economic health and overall quality of life.
The data point Russell often uses to illustrate his case is 95 percent of all paved surfaces in the state – roads, highways, parking lots and driveways – are built with asphalt.
"At CalAPA, we're not in the asphalt business. We're in the information and knowledge-transfer business," he explained. "We consider ourselves an extension of your company. Companies trust us because we provide them timely, accurate and valuable information to help them run successful businesses. We speak for the entire industry."
CalAPA's exhaustive work in pushing for the gas tax hike SB1, originally passed in 2017 under then-Gov. Jerry Brown, for infrastructure repairs and improvements statewide was critical to establishing a $54 billion transportation funding package over 10 years.
When the tax faced a strong, well-funded recall effort in 2018, known as Proposition 6, CalAPA went to the mat to ensure voters, lawmakers and the media understood the harm the recall posed to California's aging infrastructure.
CalAPA and its member companies donated about $7 million to the "No on Prop. 6" campaign to get out the message that the gas tax hadn't been raised in decades and fell woefully short of addressing California's backlog of infrastructure repairs.
An additional 12-cents a gallon with guaranteed future inflation adjustments was the answer to fixing old highways and bridges.
The repeal was defeated at the ballot box with 57 percent of voters opposed.
The effort paid off as Caltrans put a record amount of highway paving jobs to bid in May and June with money secured by SB1.
"Collectively, as an industry, we got SB1 over the hump," Russell said. "No one entity could have accomplished that."
Protecting the industry during the coronavirus crisis is another example of the organization's ability to work successfully on behalf of its members.
CalAPA, teaming up with other industry groups such as United Contractors and AGC of California, was instrumental in helping the construction industry navigate the early days of the pandemic.
In March and April as Gov. Gavin Newsom and local health officials issued shelter-in-place orders and temporarily shuttered entire industries to slow the spread of the deadly virus, construction was deemed essential and allowed to continue operating with new safety protocols thanks to advocacy and education by CalAPA and others.
Like any good reporter, Russell, along with his small crew at CalAPA, keeps an eye on industry trends so the organization can proactively tackle any threats to asphalt producers, contractors and construction workers.
Looming after the dust settles on Covid-19, he said, are environmental regulations that would drive up the cost of construction and make it increasingly difficult for companies to operate.
CalAPA helps shape rules on everything from air pollution to water quality, recycled materials in asphalt production such as old tires used for "rubberized asphalt" and a new idea currently being tested by Caltrans on a one-mile section of Highway 162 in Oroville to use recycled plastic bottles as a binder in hot mixes.
The association's goal is to help make regulations straightforward and realistic so the industry can stay in compliance and do what's best for protecting the environment and the communities it serves.
Ultimately, the mission is to improve the asphalt pavement industry for the benefit of all Californians.
Russell is especially proud of the commitment to member service by his entire staff.
"Anytime a CalAPA member needs something, it's like a fire alarm with all hands on deck," Russell said. "Whatever I can do to clear obstacles for our members, I'm happy to do."
Back to all Blogs