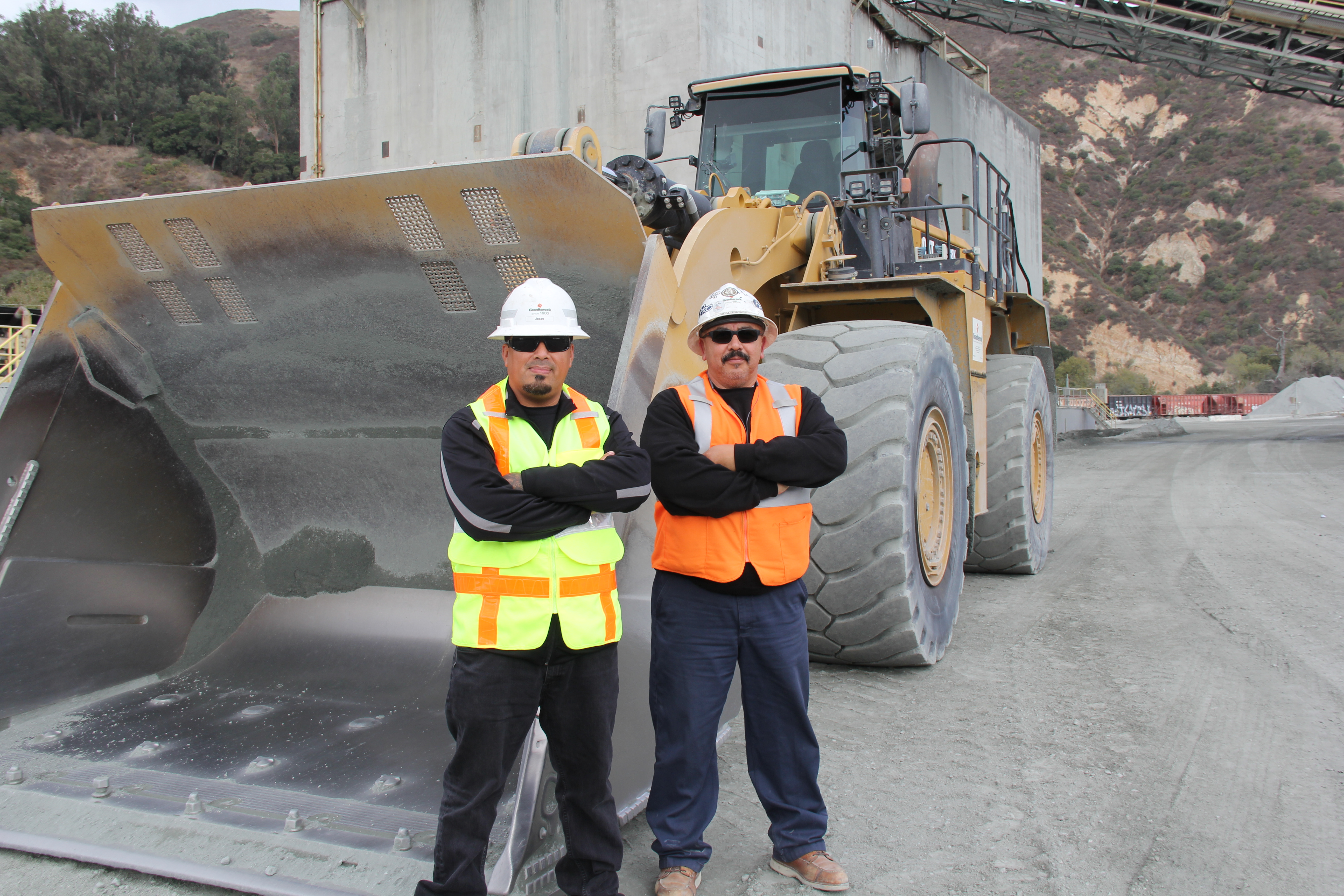 Aggregate loader operators have a special knack for customer service
Posted by Shanna McCord Crigger on Jan 30, 2020
AROMAS – Loader operators Jesse Palmerin and Ruben Cardona could write the book on great customer service for truckers hauling construction materials.
Together, they load more than 350 customer trucks each day within half a ton of the targeted weight, easily handling 13,000 tons daily.
Jesse and Ruben are so accurate that in all of 2019, every truck was loaded within 98.5 percent of the specified target.
They rarely, if ever, tap the box with their bucket.
And if they do, you're sure to hear "I'm sorry."
The two have pretty much perfected operating the 988H and 988K CAT loaders over many years in the industry, and they know aggregate specs better than your high school science teacher knows biology.
But what really makes this duo shine is their ability to form friendships with the drivers picking up rock and sand daily at the A.R. Wilson Quarry.
Jesse and Ruben have a knack for making truckers smile, which isn't as simple as it sounds.
"Jesse and Ruben play a unique role in our operation," manager Nick Wenzel said. "They operate at the intersection between operations and sales, and often are the first people our customers speak with when picking up materials. They both are really good at what they do."
After rock at the A.R. Wilson Quarry is mined, crushed by the Krupp, crushed smaller at the secondary plant and washed, Jesse and Ruben move the aggregates from stockpiles into customer trucks – one 12-ton scoop at a time.
The two have seamlessly orchestrated an ability to get a steady lineup of 18-wheelers loaded and out the gate as quickly and safely as possible.
Jesse and Ruben know the exact minute a customer enters the quarry by looking at the black iPad screen showing customer name, truck number, aggregate type and quantity.
Keeping trucks moving efficiently is one of the critical issues they face each day as a waiting truck is like being in a cab stuck in traffic with the meter running at $2 a minute.
That helps explain why truckers aren't always patient.
Jesse and Ruben, both veteran operators of the loader, make sure truckers get what they need and leave with assurance their trailer is carrying no more than the max legal limit – 80,000 pounds (40 tons), combined materials and truck weight.
Not a drop over, because no one's happy when they have to take time to dump a little material.
Jesse and Ruben add a positive customer service twist by making truckers laugh and feel at home in the quarry with their constant stream of upbeat banter over the CB radio.
They know most drivers by first name.
"We make everybody feel welcome," Jesse said. "Sometimes it's a comedy show on the CB because we're so friendly with the drivers."
The comfort level with truck drivers and desire to deliver top-shelf service comes from their past experiences.
Both Jesse and Ruben have been on the other side of the loader as truck drivers hauling dirt and rock to construction sites.
They can relate to the pressure of getting materials to the job on time.
Jesse, an Aromas resident, spent six years driving an end-dump for Graniterock's transportation team, off-hauling dirt and rubble and delivering aggregate to the Company's concrete and asphalt plants.
Ruben, who lives in Prunedale, ran his own backhoe and trucking business for 20 years. He's been with Graniterock eight years.
They've created a bond so strong from inside the loader cab the operators joke they're brothers.
That's partly because they have just as much in common outside of work.
"It feels like we're twins,' said Jesse, who started his Graniterock career 13 years ago.
They're both passionate about restoring classic cars and riding their Harleys on weekends.
"It's an extra connection we have that we can talk about on the radio in the middle of blending aggregates. Those things add up to why we get along," Ruben explains. "It's knowing that I'm going to have his back, and he's going to have mine."
Back to all Blogs