A Part of Graniterock History in California's Gold Country
Posted by Rose Ann Woolpert on Mar 18, 2015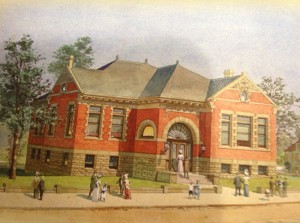 Nevada City is an attractive summer vacation destination in the Sierra Nevada foothills north of Sacramento. It is among the most interesting of California's historic Gold Rush towns, with narrow streets and century-old buildings far enough from the busy interstate highway system to retain a homespun charm. If you find yourself there this summer, one very special Nevada City building is worth a visit: The Doris Foley Library for Historical Research, once known as the Nevada City Library. It was designed by William Weeks and built by Granite Rock Company in 1906-7.
Weeks was the highly regarded Watsonville architect of dozens of public and private buildings throughout California, including a number of libraries funded by philanthropist Andrew Carnegie. Although a brand new business at the time, Granite Rock Company was responsible for the construction of many of these structures, including libraries in Watsonville and San Luis Obispo and high schools in Boulder Creek and Susanville. Nevada City's Carnegie library is one of the few of these buildings still around today, and is listed on the National Register of Historic Places.
In 1905, Granite Rock Company won the low bid of $9,520 for the Nevada City library project, and arrived to start work there on April 5, 1906. Less than two weeks later, on April 18, the 1906 Earthquake interrupted progress and made building materials and workmen almost impossible to find.
"The San Francisco earthquake had caused snowball effects that delayed the arrival of building materials, and competent labor was not to be had, at any price, for months after the disaster…. Building materials headed for California had been ordered from all over the nation and this had caused a congestion of freight cars on the railroads. Building supplies from the East were lost in transport, and when supplies finally arrived they were so mixed up, or incomplete, that they could not be used until additional supplies were ordered and received." (Brower, Nevada County Historical Society, 2007.
Building plans called for rock and brick construction, but with the high cost of scarce materials, concrete blocks had to be manufactured instead. Finally, in September, 1906, Graniterock supervisors Walter Wilkinson and George W. Seay pulled together a crew of ten men to work on the project. Bad winter weather caused further delays, but the library was completed in July, 1907 and in continuous use until Nevada City built a new library in 1991. The original library became an historical research library, which it remains today. It is located at 211 North Pine Street, Nevada City, California, across the street from the Nevada County Superior Court House. If you happen to stop in, be sure to mention Graniterock, and thank the people of Nevada City for preserving a part of our history.
Back to all Blogs