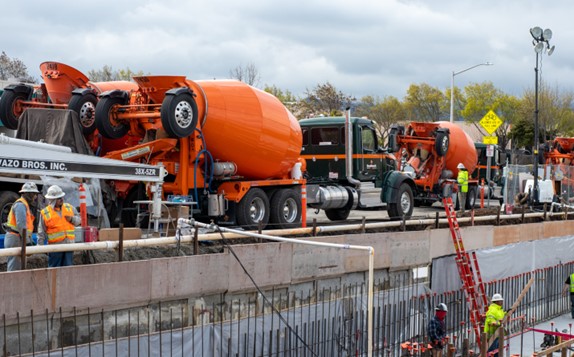 20 years of producing sustainable concrete
Posted by Shanna McCord Crigger on Aug 21, 2023
In an era of growing environmental concerns, Graniterock has made great strides in producing low carbon concrete over the past two decades. Through increased use of supplemental cementitious materials (SCMs), Graniterock has helped transform the construction materials industry by significantly reducing carbon emissions. This achievement showcases the company's commitment to sustainability and a greener future.
Over the span of 20 years, Graniterock's use of SCMs has shot up from an average of 7 percent replacement per yard in 2003 to 30 percent in 2023. This shift signifies the 123-year-old construction materials company's proactive approach to embracing eco-friendly alternatives and reducing its reliance on traditional cement, which is notorious for high carbon emissions.
Graniterock's dedication to sustainability is further highlighted by the amount of replacement materials used in lieu of cement. In the last two decades, Graniterock has successfully averted more than 700 million pounds in CO2 emissions. This achievement is equivalent to the emissions produced by 73,000 homes in a year or 67,000 cars driven for an entire year. By significantly reducing its carbon footprint, Graniterock is actively contributing to the fight against climate change and preserving our planet for future generations.
The beauty of Graniterock's accomplishments lies not only in the environmental impact but also in practicality and functionality of the low carbon concrete.
Concrete produced with increased SCM content possesses the same strength, durability and visual appeal as traditional mix designs. This means buildings, bridges and other infrastructure constructed with Graniterock's sustainable concrete are environmentally friendly and of the highest quality.
Another key to Graniterock's low carbon concrete is the locally produced aggregates from the company's hard rock quarry located near Watsonville. The aggregates are shipped to Graniterock's concrete plants in Redwood City and San Jose by rail, which further reduces the concrete's carbon footprint by taking trucks off the highway. One rail car of aggregate replaces four trucks.
Graniterock's achievements in low carbon concrete production and increased use of SCMs mark a significant milestone in the construction industry. By embracing sustainable alternatives, the company continues to demonstrate innovative thinking and responsible practices go hand in hand.
Back to all Blogs