100 Years Ago at Graniterock
Posted by Rose Ann Woolpert on Mar 18, 2015
100 years ago
, in 1913, Pearl Totten O'Donnell was born at the quarry village. Pearl's father, Harry Totten, worked as engineer on the steam locomotives used to move rock from the quarry face to be crushed and loaded onto railcars at the main railroad line. In those days, single men lived in the Bunkhouse and ate at the Cookhouse, and families lived in Quarry housing. In the late 1940s, when the heavy traffic of big rig trucks made it too dangerous for children to play nearby, the houses were moved away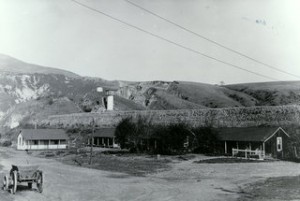 .
75 years ago, in 1938, when heavy rainfall caused flooding along the Pajaro River the Granite Rock Company quarry filled with water three feet deep. Bill Codiga, step-grandson of Ambrose Rossi, recalled his grandmother, stranded in her home there. "She would not come out of her house and they had to take her out in a rowboat."
50 years ago, in 1963, computer technology arrived at Granite Rock Company. A giant IBM System 3 office computer pointed the Company toward the modern digital era. There were, however, a few bugs to work out, literally. The computer punch cards became infested with termites. Once exterminated, there was no looking back as computer systems became a central part of modern operations.
25 years ago, in 1988, Graniterock renamed the Logan Quarry the A.R. Wilson Quarry in honor of Company Founder Arthur Roberts Wilson. Celebratory events included tours of the Quarry and the new processing plant, GraniteXpress "performance finals" (a contest to determine the fastest aggregate driver times through the new GranitXpress loadout system), planting of a new A.R. Wilson Redwood Gove, a rodeo, and a dinner "Celebration of Performance '88" under a giant tent.
Today, in 2013, Graniterock's commitment to customers and community means constant innovation and continuous improvement as we work to provide quality products and services and to meet customer needs.
Back to all Blogs