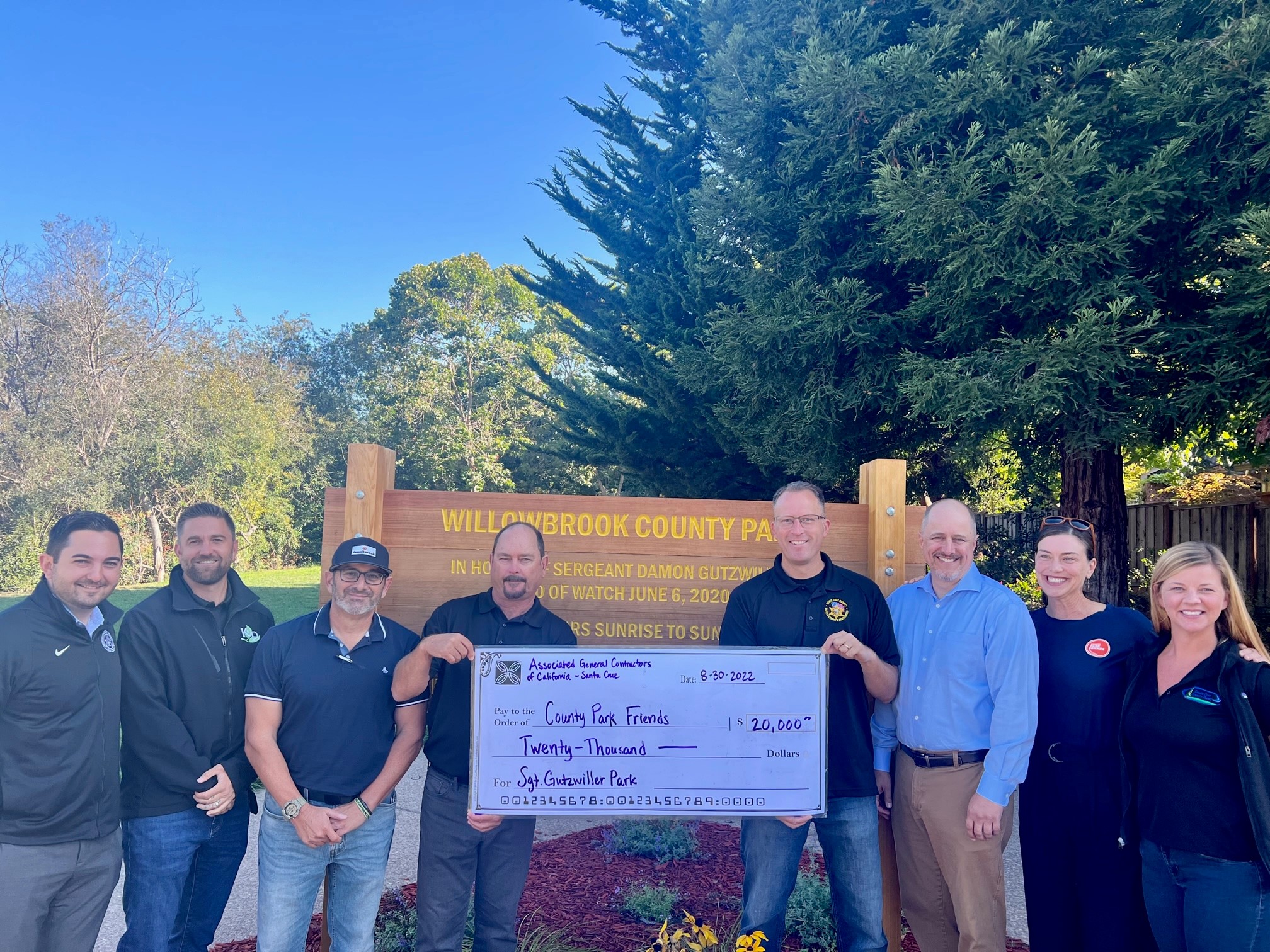 Graniterock donates toward slain officer's memorial in Santa Cruz County
Posted by Graniterock on Aug 31, 2022
The Associated General Contractors of California and member contractors Graniterock, Granite Construction and XL Construction have pledged $20,000 toward the Reimagining Willowbrook Park Project in honor of Sgt. Damon Gutzwiller.
The park refresh project will serve as a dedication to Gutzwiller, a Santa Cruz County sheriff's sergeant killed in the line of duty on June 6, 2020.
"When AGC learned of the effort to honor Sgt. Gutzwiller's memory at Willowbrook Park, our local members were eager to help. We hope this contribution assists in moving the memorial forward and encourage the community to support this important project," said Chris O'Connor, Vice President for AGC of California.
"To honor Damon is important to our community and important to Graniterock," said Karl Philipovitch of Graniterock. "We are happy to play a small role in making sure Damon's sacrifice for the safety of our community is always remembered."
AGC presented the check to County Park Friends, the Santa Cruz County Deputy Sheriffs' Association, and the County Parks Department on August 30 at Willowbrook Park in Aptos.
"From the beginning of the reimagining of this park, the Associated General Contractors has been an active partner," County Supervisor Zach Friend said. "Local landscapers, builders, and members of the trades have asked how they can help and they have delivered in a big way."
AGC's generous contribution to this campaign will go toward a newly constructed flagpole that will be eternally flown on the south side of the park.
As a part of this project, the county has renamed the park in honor of Sgt. Gutzwiller, installed two new monument signs, and improved landscaping at the park's entrance. In addition to the flagpole, planned improvements include a new and more accessible playground structure and a memorial seating area to serve as a place of reflection for Damon's loved ones and the greater community.
"Sgt. Gutzwiller's legacy and dedication to his community will be forever felt in this park, said Kim Namba, Deputy Director for Santa Cruz County Parks. "Community contributions like that of AGC are moving this project from vision to reality."
Thanks to the generosity of many individuals, businesses, and organizations in Santa Cruz County, County Park Friends and the Santa Cruz County Deputy Sheriff's Association have partnered to raise over $250,000 for this park.
Opportunities to be a part of this special project are still available. For more information, please visit countyparkfriends.org/willowbrook.
Back to all Blogs