Engine Number Ten Arrives at the Santa Cruz County Fair
Posted by Rose Ann Woolpert on Mar 18, 2015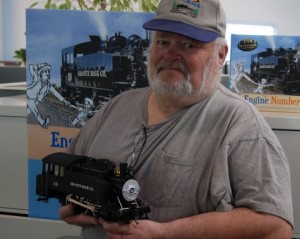 Santa Cruz County Historical Railroad Society Celebrates Twenty Years at the Santa Cruz County Fairgrounds
When the 2013 Santa Cruz County Fair opens its doors this September 10, model railroad fans will see a new engine pulling ore cars around a miniature replica of Graniterock's A.R. Wilson Quarry. Graniterock's historic Engine Number Ten tank engine is the latest addition to an exhibit created and maintained for the past twenty years by members of the Santa Cruz County Historical Railroad Society. Bob Grimsley, a Society member who has worked on getting Engine Number Ten on the Santa Cruz County Fairground tracks, has worked as a night watchman at the real Graniterock quarry since 2007.
"We wanted to let people see what a quarry is and to show the different vehicles we have," said Bob. "The layout is reminiscent of today's operation, with a quarry pit, maintenance shop, load out plant, main line and three side tracks." This newest of the G-scale engines at the Fairgrounds will blow its whistle, ring a bell and blow steam from its stack as it pulls past a tiny quarry complete with haul and water trucks, conveyors and graders. The original steam engine is now on display at the California State Railroad Museum in Sacramento and its story is featured in Graniterock's new children's picture book, Engine Number Ten.
Railroad Society volunteers use computer controlled, hand held remotes to operate engines which pull G scale railroad cars around the 2,000 square foot outdoor display. The hobbyists have worked carefully to create a realistic representation. For example, Bob realized that today many cars are marked with graffiti, so he applied graffiti to some of the replica ore cars. To antique the cars and make them look like they've been out there for a while, members stand a few feet away and spray rust colored paint onto new models "The paint gets all over the car and takes the shine off," says Bob.
Creating such a railroad may seem like an overwhelming project to the average person, but for members of the Santa Cruz County Historical Railroad Society it has been a labor of love. Graniterock supplied the tons of rock and building materials needed to build the little quarry layout, but all construction work was done by club volunteers.
The Santa Cruz County Historical Railroad Society started in Ben Lomond and Boulder Creek with twenty-eight members. It is funded by donations and the contributions of club members, but with declining memberships there has been less money available for repairs, maintenance and expansion. The club now has fourteen active members who gather at the Fairgrounds each Monday night to maintain the exhibit, which is open to the public on Mondays from 7 to 9 PM all year long. For more information about the Santa Cruz County Historical Railroad Society, you can find their website at http://www.trainweb.org/sccrhs/.
Back to all Blogs