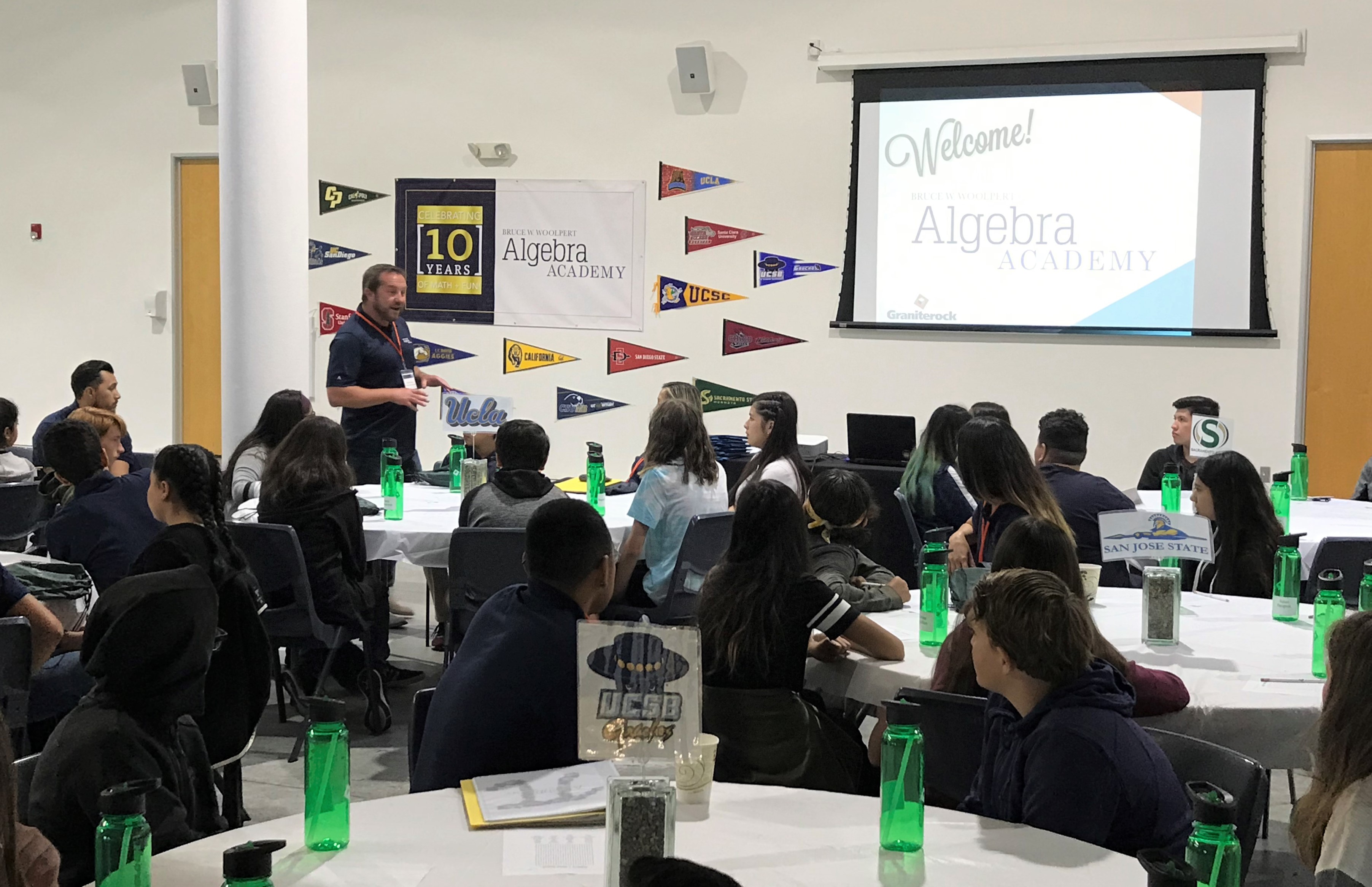 Empowering young minds in mathematics – The Bruce W. Woolpert Algebra Academy returns in-person after four years
Posted by Shanna McCord Crigger on Jul 28, 2023
Watsonville - The Bruce W. Woolpert Algebra Academy is back with renewed vigor, marking its first in-person session in four years. Scheduled to run July 31 to Aug. 4, the academy takes place at Graniterock's headquarters and Driscoll's Cassin Ranch facility.
Bringing together 75 eighth-graders from middle schools in the Pajaro Valley Unified School District, Hollister Unified School District, Aromas-San Juan Unified School District and Southside School in Tres Pinos, this immersive educational experience aims to foster a deeper understanding and appreciation for mathematics.
"We are very excited to bring the students back to the businesses for their algebra immersion week," said Christy Sessions, the Academy's Executive Director. "This is the main thing Bruce wanted when he created the Academy in 2010, for the kids to see with their own eyes how what they're studying relates to business and inspire them to study math and science in college."
The academy's daily schedule, 9 a.m.-3:30 p.m., will be filled with engaging activities, games and comprehensive lessons taught by professors from Cal State University Monterey Bay and UC Santa Cruz. CSUMB Professor Hongde Hu, whose partnership with the late Bruce W. Woolpert was instrumental in the Academy's creation, will return to the summer program along with his colleague Noah Doss and UCSC math professor Justin Lake.
In addition to the college professors, 10 Academy alums, now seniors in high school, will serve as teaching assistants during the immersion week.
These dedicated educators will provide personalized instruction and mentorship to nurture the students' mathematical talents.
The Bruce W. Woolpert Algebra Academy places significant emphasis on experiential learning, aiming to make the subject matter relevant and exciting for the young participants.
Several members of the Graniterock team will kick off the Academy each day with inspirational talks of their own experiences in school and how math is used in their daily jobs.
As part of the Academy curriculum, the students will visit the CSUMB campus on Wednesday, Aug. 2. This excursion will allow them to explore a real-world academic setting, eat at the college dining commons and interact with college faculty and students.
After three years of bringing its instruction online due to the pandemic, the academy is returning to its traditional locations at Graniterock's corporate office and Driscoll's Cassin Ranch facility, both in Watsonville.
"We are thrilled to bring back the Bruce W. Woolpert Algebra Academy in its in-person format after four years," said Rose Ann Woolpert, Graniterock family owner and Academy board member. "The academy has always been committed to equipping our students with a strong foundation in algebra and fostering a love for math. This year, with the collaboration of professors and the inclusion of an exciting campus visit, we are confident that our students will leave the academy with greater knowledge, confidence and enthusiasm for mathematics."
The return of the Bruce W. Woolpert Algebra Academy is made possible through the support of Graniterock and Driscoll's, whose dedication to educational initiatives and community development is unwavering.
For more information about the Bruce W. Woolpert Algebra Academy, please visit www.bwwaa.org.
Contact: Shanna Crigger, Communications Director at [email protected].
Back to all Blogs