Donita Granado - Making It Better at Graniterock
Posted by Rose Ann Woolpert on Mar 18, 2015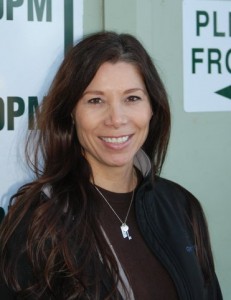 At Graniterock, one of our core values is to continuously work to make ourselves better. During seven years with the Company, Donita Granado has embraced that value, challenging herself to learn, grow and develop as a member of the Graniterock Team. First with Building Materials Sales in Cupertino and Redwood City, then as Inside Sales support for Road Materials Account Managers in San Jose, Redwood City and South San Francisco, and now as a part of Graniterock's Sales Associates Program, Donita has worked to better understand the Company and its products, with the goal of providing the best service possible to Graniterock customers.
After learning the Inside Sales position at the Design Center in Cupertino, Donita managed Building Materials purchasing for the Northern Building Material Branches. She found she wanted to learn more about the Company, and eventually moved to Graniterock's Road Materials location in Redwood City. There she has supported the work of the Account Managers and helped weighmasters with ticketing to be sure customers were billed correctly. She also found a mentor here in Construction Materials Division Manager Rich Sacher. "Rich's favorite expression is, 'Let me challenge you,'" says Donita. "Every day he sets a positive challenge for me."
Donita's current challenge is in the Graniterock's Sales Associates Program, which is preparing her for a position as Road Materials Account Manager. "This is a training program which gives you time in Accounting, Customer Service, Research and Technical Services and at the A. R. Wilson Quarry," explains Donita. "You get to learn more about all the Company divisions and more about the materials you will be selling, which helps you become a more well-rounded account manager. Then when a customer needs assistance with a problem, you know the best person to call for help."
In her new position, Donita is responsible for tracking city and county projects bidding in the vicinity, knowing which customers are interested in bidding the jobs, putting together quotes, and developing and maintaining relationships with contractors who do public work. "My past experience with building materials will help me to be a stronger account manager for our customers," she says.
Although Donita's family roots are in the Bay Area, her dad was in the military and she moved frequently as a child. Born in Connecticut, she lived in Maine and Massachusetts, went to school in Fremont, and spent additional time on the East Coast, the southwestern United States and in the Philippines before finally settling back in California. In 2007, Donita's husband Robert, a mechanical engineer who works for Space Systems Loral in Palo Alto, knew a Graniterock manager who told him of job opportunities at Graniterock's new Design Center in Cupertino. Donita's previous experience was in catalogue sales and customer service, but she quickly found a home at Graniterock. "I like everybody I work with," says Donita, "and strive to work harder because I enjoy it."
Faith and family are important to Donita and Robert, and they spend lots of time with family members who live in the area. "Four of my sisters are runners, and we like to do 5k races together," says Donita. "We have a great time together, and they are encouraging me to become a runner." The couple is involved in church activities, and enjoys "hanging out with friends, working on our home- and we love baseball." They are Giants fans who try to watch every game of the season. Donita misses her children Nicholas and Rebecca who are living away from the Bay Area while they attend school, "but we are close and talk every day."
Donita's advice for someone just starting out within a business like Graniterock is to take time to get to know people in accounting and customer service and to learn how the mechanics of the company work. "It will help you see the bigger picture and to understand the things you need to do to help things go well." Donita follows her own advice, which has spurred her to continue to learn and grow at Graniterock.
Back to all Blogs