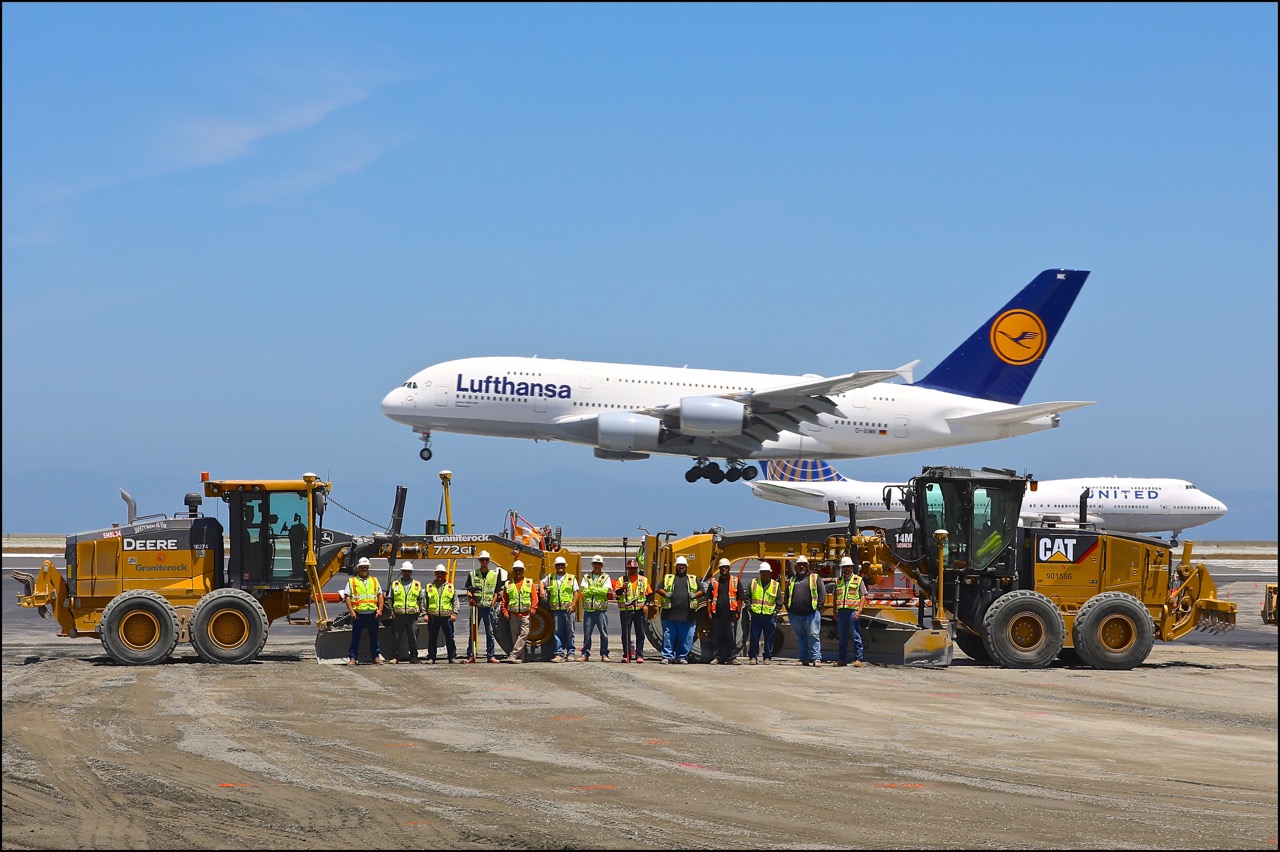 Construction Division's joint venture team at SFO wins prestigious partnering award
Posted by Graniterock on Nov 9, 2018
SAN FRANCISCO – As if laboring on a challenging construction project next to jets taking off and landing at one of the country's busiest airports wasn't exciting enough, Graniterock received the International Partnering Institute's 2018 Partnering Champion Award for its collaborative work with DeSilva Gates at San Francisco International Airport.
The award, which is the institute's highest honor, recognizes an organization that embraces and models the institute's best practices to transform the construction industry by developing high-trust relationships and organizational cultures through partnering.
Basically, Graniterock excels at partnering with other contractors and owners.
Graniterock and DeSilva, combined as Golden Gate Constructors for the joint venture, teamed up for two major projects at SFO this year: the SFO taxi lanes H&M realignment and runway 10R-28L overlay.
Graniterock was recognized for creating a collaborative environment and helping the institute accomplish its mission of demonstrating the benefits of partnerships between agencies and contractors.
"We at DeSilva Gates Construction have had the opportunity of being a joint venture partner with Graniterock on numerous projects over the past few years," said Pete Davos of DeSilva Gates. "Seeing first-hand Graniterock's passion for partnering and having core values that align well with DeSilva Gates and the IPI model make Graniterock a great partner and very deserving of this award."
Graniterock was awarded the institute's diamond level Partnered Project of the Year award on a joint venture with DeSilva Gates in 2015 for the Runway Safety Improvements Project at SFO in which $1 million of work was completed each day for 90 days and finished one month ahead of schedule.
Tremendous thanks to the many Graniterock crews who worked long days and weekends to make this work successful and to Jack Headley, Kyle Bencala, Gary Hartranft and Carlos Murillo.
Back to all Blogs