How to Apply Acid Stain to Concrete
How-To Tutorials:
How to Apply Acid Stain to Concrete
Concrete Staining has become a very popular choice in changing the look of existing concrete with very little cost. A typical project of 500 square feet can be done in a weekend making this project a great do-it-yourselfer program.
Tools and Materials
An example of tools and materials needed:
Pressure Washer w/fan tip
Acid Resistant Gloves
Goggles
Clean Plastic Bucket
Hand Pump Sprayer
Nylon Brush (Acid Resistant Non-colored)
Lambswool Applicator (Smooth Floor, Custom Work)
Baking Soda
A
Before You Begin
A fan tipped pressure washer can ensure the concrete is thoroughly clean and free of dirt or debris. Surrounding areas, landscaping, and adjacent surfaces should be protected. Prior to making stain applications, precautions should be taken to prevent water penetration into the concrete from any source. Newly placed concrete should be sufficiently cured to allow the concrete to become reactive, a minimum of 14 days.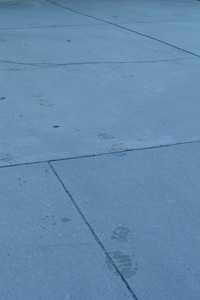 Step 1
The Look
Staining is caused by a chemical reaction with the surface of cured concrete to produce unique and permanent color effects. Concrete chemical stains create uneven, variegated or translucent color patterns. The result is unique to each concrete surface and cannot be duplicated with other coloring materials. Concrete stained color effects vary in intensity over color-hardened concrete, newer concrete, concrete with high cement contents, and overlay toppings.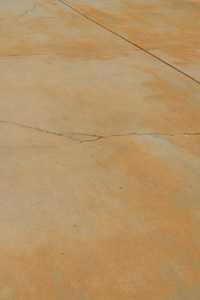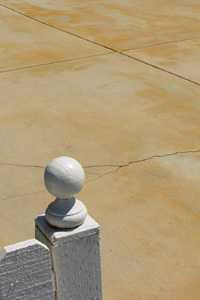 Step 2
Equipment
Brushes for applying the stain should be of professional quality, long-handled or hand-held, with uncolored, acid-resistant nylon bristles of medium stiffness, having the ability to hold liquids. Do not use rollers or mops because they cannot effectively scrub the stain solution into the surface. A hand-pump sprayer may be used to transfer the stain solution to the surface in larger areas. For cleaning, a stiff-bristled bassine or nylon scrub brush is recommended.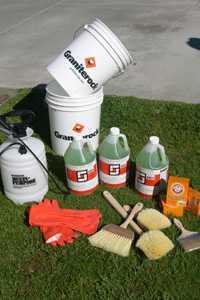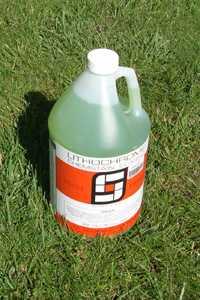 Step 3
Determine Color
Verify and approve suitability and appearance, by creating test sections prior to general application of the chemical stain. Apply the Chemical stain using the desired stain colors, preparation and application equipment, and staining techniques. Copper Patina, Fern Green, and Weathered Bronze are best suited for interior use and when used in an exterior application must be protected from constant weathering.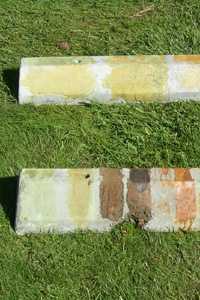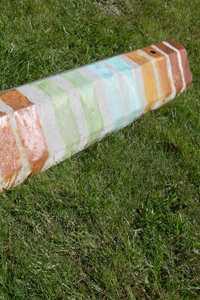 Step 4
Apply Stain
A minimum of two separate stain applications is normally required over concrete. Chemical stains should be applied full-strength (undiluted). Coverage rate is approximately 75-100 square feet per gallon for two applications. The surface should be divided into small work sections using walls, joint lines, or other stationary features as natural stopping points.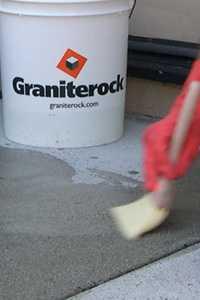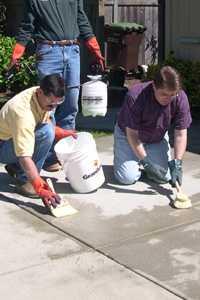 Step 5
Stain Reaction
Chemical stain normally fizzes while reacting. If fizzing does not occur, the surface has not been adequately prepared or the concrete is not sufficiently reactive to be chemically stained. Keep the brush in constant contact with the surface and in continuous motion. Whether the Stain solution remains wet or dries on the surface, it should be allowed to remain in contact with the concrete until the desired effect is obtained, a minimum of 4 hours.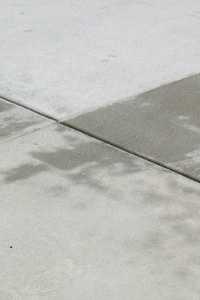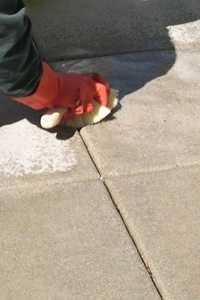 Step 6
Neutralizing the Stain
All unreacted stain residue must be neutralized and then completely removed prior to sealing. A solution of baking soda (sodium bicarbonate) and water, using 1-pound baking soda per 5 gallons of water, can be used to neutralize the residual stain acid. The solution should be applied until it stops fizzing. After neutralization, the surface should be rinsed thoroughly with clean water several times to remove soluble salts.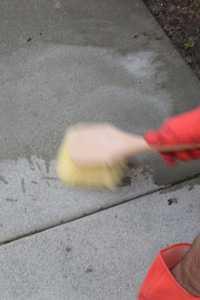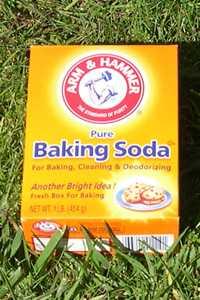 Step 7
Seal the Concrete
All chemically stained surfaces must be protected from traffic until they are sealed. The surface should be sealed as soon as possible after the surface is neutralized and dry. Failure to completely remove all Stain residues and rinse the surface clean prior to sealing will result in performance problems with the sealer.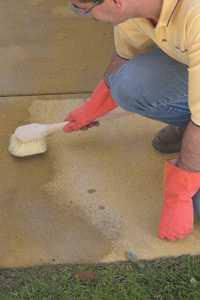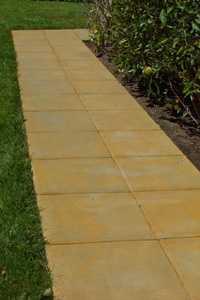 Step 8
Maintenance
A maintenance application of sealer should be made periodically as the sealer is worn off the surface. It is not necessary to strip the previously applied sealer.