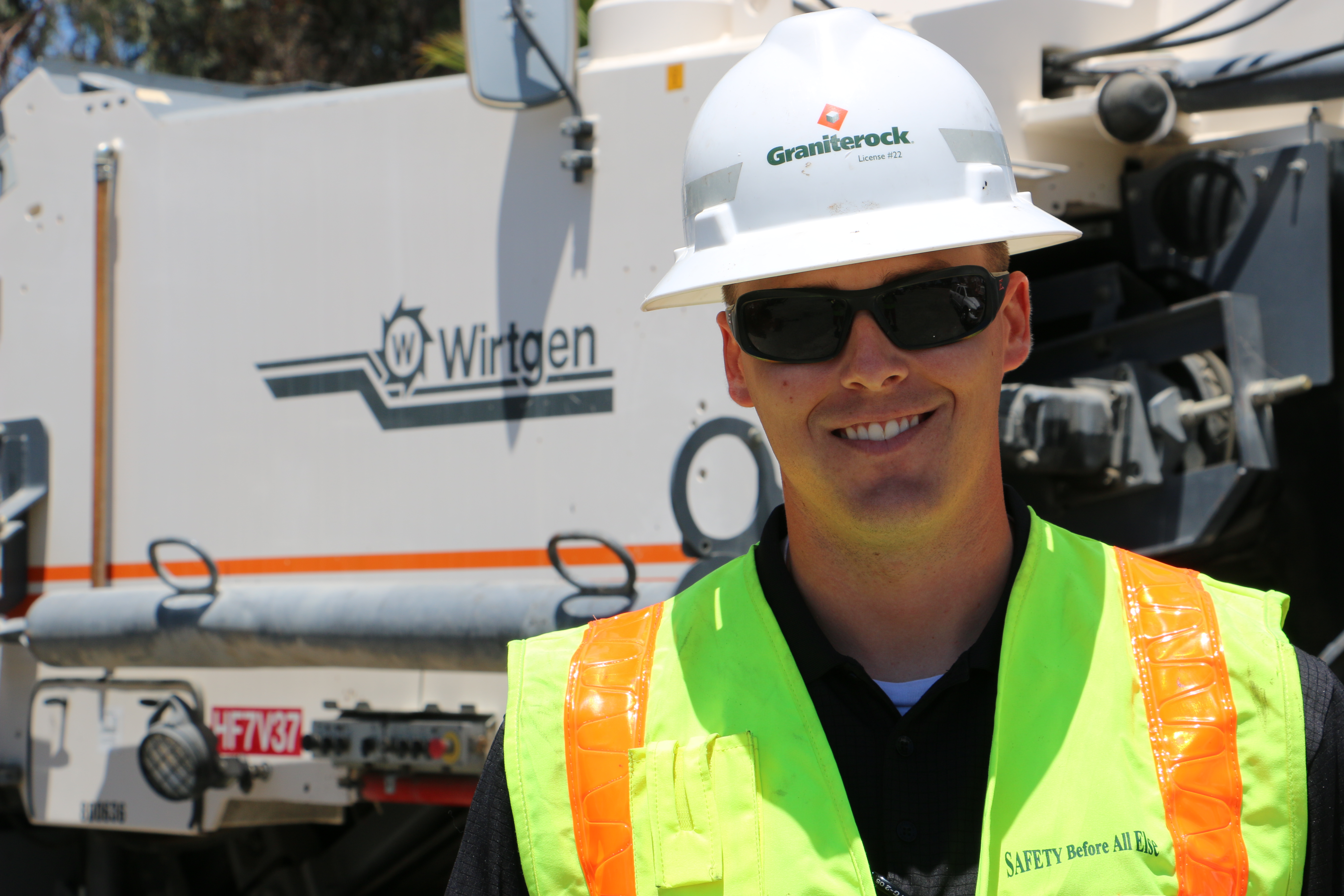 The man with an answer for our crumbling streets
Posted by Shanna McCord Crigger on Jul 12, 2016
SAN JOSE – Dennis McElroy is on a mission.

A true believer in cold in-place recycling as an environmentally and economically superior method of street maintenance, Dennis is constantly advocating how CIR can help cash-strapped agencies tackle their growing backlogs of cracked up roads.
As Graniterock's cold in-place recycling manager, he spends a great deal of time meeting agency officials to carefully explain the road rehabilitation technique and its benefits. He's always looking for projects where dig outs and overlays can be swapped out for CIR.
His CIR sermons are striking a chord as more and more agencies throughout California - San Jose, Fremont, Hayward, Santa Clara County and Monterey County - are giving the technology a shot. And they're discovering it's the answer they've been looking for to smooth out bumpy roads without breaking the bank in the process.
"I'm not just selling CIR to sell it. I really believe in it," Dennis said. "The savings in time and money are huge. Plus, it's so much better for the environment to recycle our roads than to haul off all that material to the landfill."
CIR is a road rehabilitation technique that recycles the top 3-6 inches of existing pavement to improve roadway surfaces without the need for grinding or new materials, which eliminates waste sent to landfills and all the truck trips that go along with it.
Much of Dennis's attention lately has been centered on Caltrans. He's working tirelessly to convince state leaders to include foamed asphalt CIR in their specifications. (Caltrans has only identified emulsion CIR as a non-standard provision in its specs until now.)
Foamed asphalt CIR actually binds the aggregate using less water and less asphalt binder, and cures in just two or three days compared with nearly two weeks with emulsion.
Caltrans has agreed to a pilot project for foamed asphalt CIR this summer on Highway 116 in Sonoma County. Graniterock is finalizing its foamed asphalt CIR working NSSP (Non Standard Special Provision), which can be used as a template for future CIR jobs.
Dennis grew up watching his ambitious father, Mike McElroy, make a name for himself in the San Francisco Bay Area construction industry. Mike, a natural leader and deal maker, ran his own grinding company, FMG, and introduced foamed asphalt CIR to California in 2010.
While it might appear all roads would have led Dennis, 27, to a construction career, that wasn't the case. In fact, he resisted joining the field for a long time.
"As a kid, I always told my dad I never wanted to work in construction," he said. "It wasn't something I was interested in until later."
Dennis tried other avenues, including community college and a position at Fox Racing in Morgan Hill, before admitting construction might be the right fit after all.
But when he asked his dad for a job, it wasn't straight to the top.
Far from it.
Dennis started at FMG washing trucks and sweeping the shop floor.
"My dad was adamant I start at the bottom and learn everyone's role," he said. "There were no handouts or favoritism."
After about a year he joined Operating Engineers and worked at FMG as a ground man, coordinating trucks and assisting the grinding operator.
He also spent time as a laborer on FMG's paving and CIR crews – striping, shoveling and spreading sand.
In due time, the quiet and introverted young man had absorbed quite a bit about how to run a job and lead a crew, and was ready to take on the challenge himself.
His test was a nearly $9 million overlay project for the city of Fremont, covering 14 streets in a short time period.
"That job taught me how to build a good relationship with the owner," Dennis said. "I was stressed out, but learned a lot."
He joined Graniterock in early 2014 when Graniterock acquired FMG, and he quickly jumped into the CIR business with FMG's Wirtgen 3800CR machines.
While Mike ended up leaving Graniterock, Dennis stayed on and embraced the CIR method his father had worked hard to establish.
His intelligence and passion for the technology make Dennis the ideal person to carry on his father's legacy and win over skeptics.
"A small piece of his passion for CIR is an extension of his father," said Graniterock Area Manager Bill Moody. "Dennis is eager to learn and he takes a lot of initiative. He's shown great ownership in taking over the development of Graniterock's CIR program. In addition, he's very capable and puts people at ease."
Dennis lives in San Jose with his girlfriend Shannon. They like to ride his Harley and get out of town on weekends. You can also find him fishing with his father and younger brother Daniel.
And yes, they do talk about work. A lot.
"My dad has definitely been a mentor to me," Dennis said. "I want to continue what he started."
Back to all Blogs