A Friend of the Family: Dan Meschi - Solid Concrete Service, Inc.
Posted by Rose Ann Woolpert on Mar 18, 2015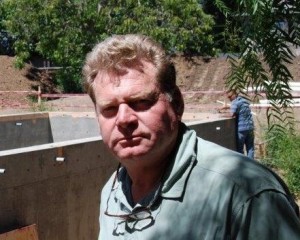 On a quiet cul-de-sac in Palo Alto, California, construction is underway on what appears from the street to be a modest one story home. In reality, this is a 7,000 square foot high-tech playground which extends two stories underground, features a slide to the lower level rec room, three theatres, an indoor basketball court and electronics throughout the house which can be controlled by the owner's smartphone. This kind of work demands architectural concrete construction with the quality and attention to detail Solid Concrete Service, Inc. is known for. The company teamed up with Graniterock to install 1,580 yards of concrete for the project and in a recent
Friends of the Family
interview Dan Meschi talked about how he got started in his business and the scope of work done by Solid Concrete Service, Inc.
"My dad was a flatwork crew superintendent for a local concrete construction company, and when I graduated from San Diego State I went to work for him. I played football in college and was not much of a student," said Dan. "After less than a year, I knew I wanted to do a better job than the company I was with, so I started my own business." It was 1978, and Dan started out doing any little job he could find. Soon his dad joined him and became his full time mentor. "He tutored me and was my best friend," said Dan, fondly remembering his father, who passed away at age 94. "I was a 'get it perfect' guy and I wanted to do well. I learned everything from others, taking the best ideas from people I worked with to put into my bag of tricks." In 1999, Rick Harder and Terry Gallagher joined Dan as full partners to form Solid Concrete Service, Inc. "I trust them both like brothers," said Dan, who credits Rick and Terry for "the capability to pull off a structure like this. We each bring a different type of expertise to the partnership."
Other key players are Matt Esslinger, who is superintendent of foundation crews and Juan Mendoza, who is "a phenomenal guy who runs the flatwork division." In the back yard of the home, more construction is underway. 33 foot deep, 2 foot diameter concrete piers were required to stabilize the structures situated nearby. A concrete-clad swimming pool is designed to be set at one of eight different elevations. "If the owner wants a patio or dance floor instead of a pool, the floor of the pool is a stone deck. The deck can be lowered via smart phone so that concrete storage vaults instantly fill the pool with water up to twelve feet deep," said Dan. "Paradise Pools hired us to do the swimming pool because it has to be very accurate."
Solid Concrete Service, Inc. specializes in building "super high-end houses" in Atherton, Woodside and Palo Alto. "Everyone knows if you want the best job, come to us. We do no advertising, it's all word of mouth, and we only use Graniterock material," Dan explained. On a job such as this one in Palo Alto, "the structural engineer gives us specific criteria within a range. Zach Booth (Graniterock account manager) comes up with a variety of designs, and I pick one to send on to the engineer." Graniterock provides the quality and service Dan expects. Barry Bell, president of Godby Construction, Inc., is the custom home builder on this particular project. According to Barry, "Other companies just create a ton of work for me. I don't have to worry with Solid Concrete."
Dan and his wife Cynthia live in Bonny Doon with their menagerie of two rat terriers named Dottie and Annie, two "rescue" cats and two quarter horses he describes as "large hooved pets" – "we don't ride them but they are fun to care for." Dan also loves to fish and spent last weekend at home building a bass pond. He plans to fill the pond with minnows and mosquito fish to provide food for the bass he will add in a couple of years. He sets aside two weeks a year to go fishing, and especially likes the McCloud Reservoir in Siskiyou County near Mount Shasta where he fishes for brown and rainbow trout.
Commenting on the Bay Area economy, Dan said, "The last four years have not been good, but we are starting to ramp up again and the economy has definitely changed. Customers have come back because they want the quality and service we provide." Graniterock is proud to be a partner in quality with Dan Meschi and Solid Concrete Service, Inc., a Friend of the Family.
Back to all Blogs