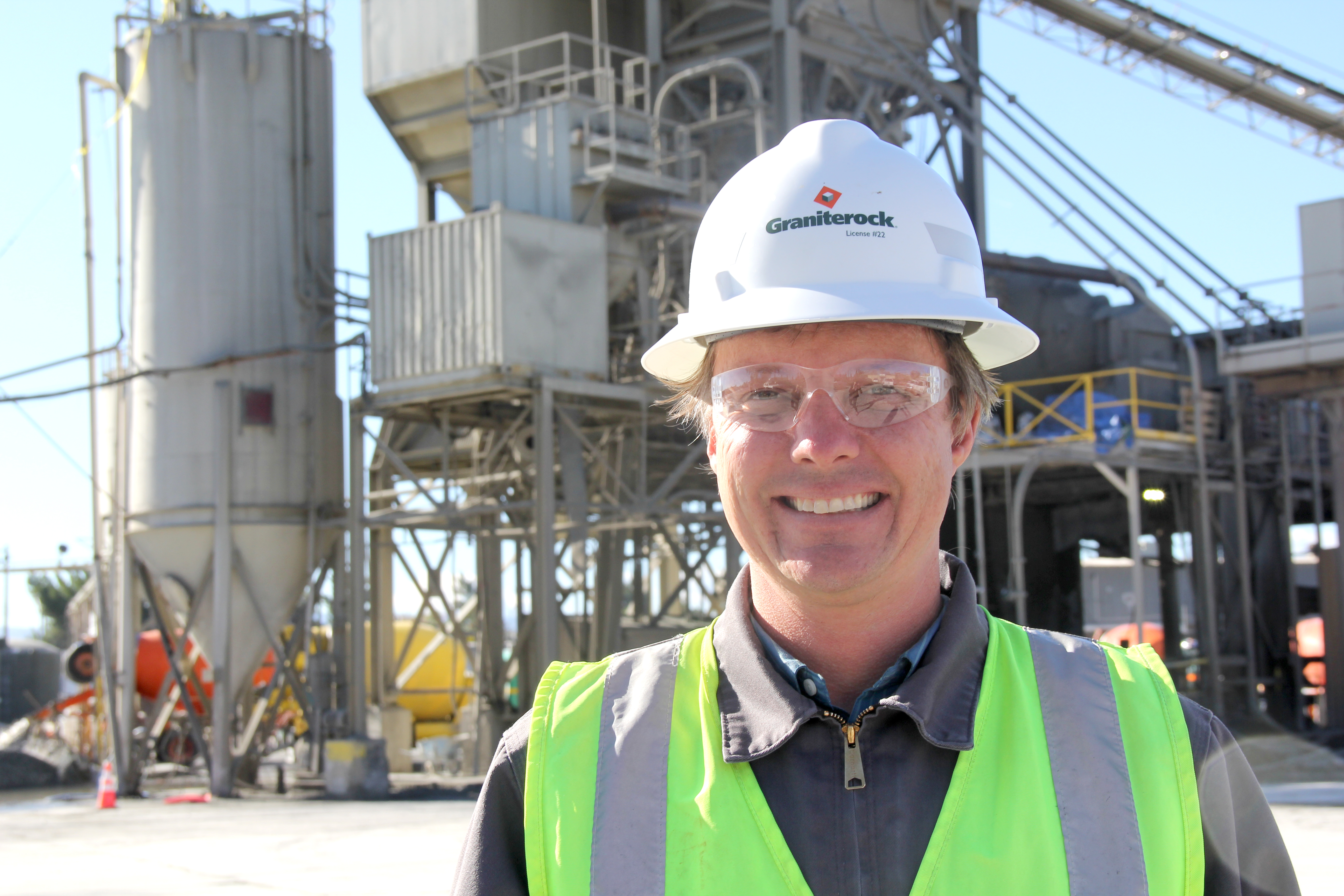 Zack Booth helps customers ride wave of success
Posted by Shanna McCord Crigger on Jan 7, 2016
Zack Booth moved into Graniterock's concrete sales in the San Francisco Bay Area at the worst time imaginable.

It was 2008, the outset of the Great Recession.
The economy was in a downward spiral and the few concrete projects available went for bargain prices.
But Zack knew what he was doing.
He had spent several years at the company's concrete and building materials branch in Santa Cruz - sharpening his sales experience and following building permits - before the call came from Graniterock's concrete manager, asking Zack to take over Bay Area concrete sales.
He'd already become an expert on the chemistry of concrete while working in Graniterock's research laboratory after graduating from UC Santa Cruz in 2002.
"Our focus was to get new customers, so we started bidding on larger work that Graniterock hadn't historically bid on," Zack, 35, said. "We started putting our name out there and got a few jobs where the big contractors figured out we know what we're doing."
Zack has been instrumental in Graniterock picking up large pours in recent years for high-rise apartment buildings, bridge decks, parking structures and highways, all in a very competitive marketplace.
His relationship building paid off when the economy rebounded around 2012 and Graniterock had an established reputation for quality mud and stellar customer service on pours of any size.
Then Graniterock faced a different kind of problem – the unintended consequences of good work.
Concrete business had improved so much in the new economy with the high profile projects, that in order to keep up with volume growth, the company needed to expand its sales team by bringing on Nick Pereira and Matthew Sacher, improve its plants' capacity, add two dry plants and increase its fleet of mixer trucks. These were good "problems" to have.
In addition, to stay competitive the company changed many of its mix designs, added more green concrete and structural concrete and increased productivity so trucks get loaded and unloaded quicker.
Zack, with a surfer's calm in any situation, knows how to deliver what customers want and keep them coming back, skills he shares with his team. He also shares lessons learned and extensive product knowledge with high-end engineering firms, and is now a LEED accredited professional.
He turns out timely submittals and bids, and is known to follow a project from start to finish.
"He's very thorough," said John Seith, Graniterock's Bay Area concrete manager. "Anything his customers ask him to do, he does accurately and quickly. He makes their lives easier."
The art of customer service is something Zack learned from his parents, who owned a used car dealership while he was growing up in Ventura County.
"It's as simple as doing what you say you're going to do," Zack said. "If I tell a customer he's going to get a quote this afternoon, he's going to get it this afternoon. If we tell you that you're going to give you service Tuesday, you're going to get good service Tuesday."
There's no question Zack enjoys seeing orange mixer trucks rolling up to a job with a new structure taking shape.
But talk to him for a few minutes, and he'll tell you about the part of his job that really drives his passion to succeed.
"At the end of the day it's about keeping Graniterock people working," Zack said. "We know if we can serve our customers better than anyone else, they'll keep coming back, and Graniterock people will continue to have the opportunity to do good work and provide for their families."
Zack and his wife Abby live in Santa Cruz with their 1-year-old son Wyatt.
His favorite things outside of work are spending time with family, surfing Santa Cruz's Westside and brewing his own beer.
You can contact Zack Booth at zbooth@graniterock.com.
Back to all Blogs