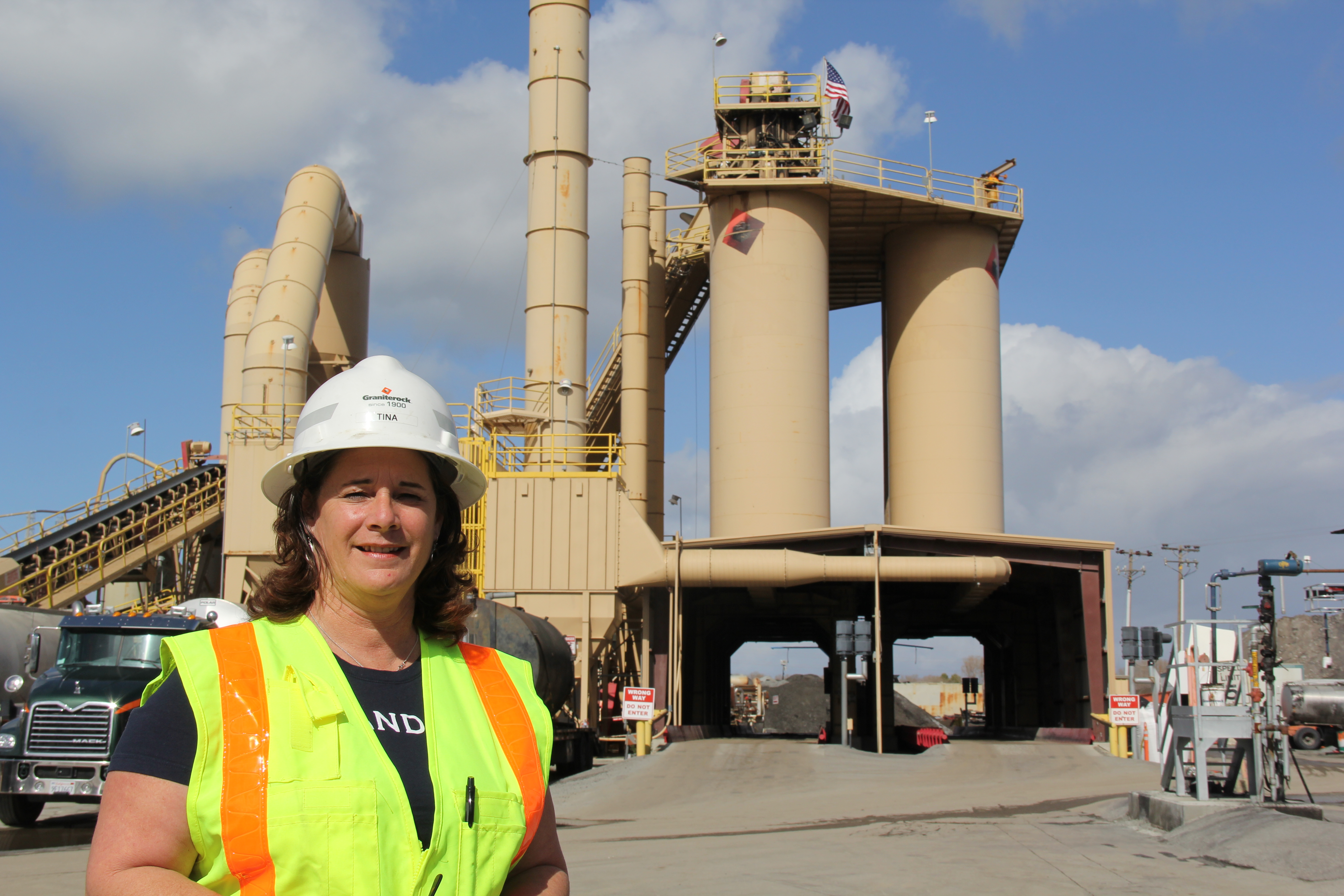 Tina Cutter keeps Redwood City asphalt business thriving
Posted by Shanna McCord Crigger on Mar 4, 2016
REDWOOD CITY – With San Francisco Bay Area construction booming in recent years, Graniterock's asphalt plant in Redwood City has been a busy place.
High demand for hot mix asphalt and other road materials means the Blomquist Street plant will sometimes run 24 hours a day to meet customers' needs.
Aggregates to feed the plant are delivered by rail from Aromas six or seven days a week, and asphalt customer trucks stream in and out the plant with increasing frequency. To keep track of volumes, it's imperative that someone closely manages all of the inbound and outbound tags.
Tina Cutter, a weighmaster with extensive industrial plant experience, plays a key role in ensuring Graniterock effectively manages this volume. Tina and her team confirm Graniterock customers get the material they need, and that they're accurately billed for it.
She's friendly and knowledgeable, a great combination for keeping customers happy.
"I really enjoy my job here. I love the people," Tina said. "I like being kept busy."
Tina, 56, came to Graniterock in 2011 after a long career at Cemex's cement plant in Davenport, which shuttered in 2009 due to the bad economy.
During 16 years at Cemex, Tina worked in the yard and at the scales, and she spent several years as a shift foreman.
She learned how to operate a loader and became very familiar with working swing shift and graveyard.
"What I've learned about asphalt is that it's so similar to how that big cement plant was run," Tina said. "There are so many similarities, it's helped me understand what the guys go through here."
The best part of her job as weighmaster, she says, is helping Graniterock's customers be successful -- whether it's tracking down a tag or advising on what kind of material they need for the job.
"I just really like the connection I have with our customers," Tina said. "I like being able to help them with whatever they need. In this position, I've got to understand the customer and what their needs are."
Stuart Mager, Graniterock's road materials manager, says Tina is dependable and demonstrates a willingness to grow in her role and take on more responsibilities.
"Tina is incredibly dependable," Stuart said. "She's someone who cares a great deal about her job and our customers."
Born and raised in Davenport, it was only fitting Tina worked at the Cemex cement plant. Many of her neighbors and family had done the same, including her sister Cynthia Escobar, who now works at Graniterock's sand plant in Felton.
After graduating from Santa Cruz High School, she held positions at the former Watkins Johnson electronics company in Scotts Valley and Crocker Bank in Santa Cruz before joining Cemex.
Outside of work, Tina, who has two grown sons Michael and Dustin, can be found baking cookies and cheesecakes and gardening.
You can contact Tina at tcutter@graniterock.com
Back to all Blogs