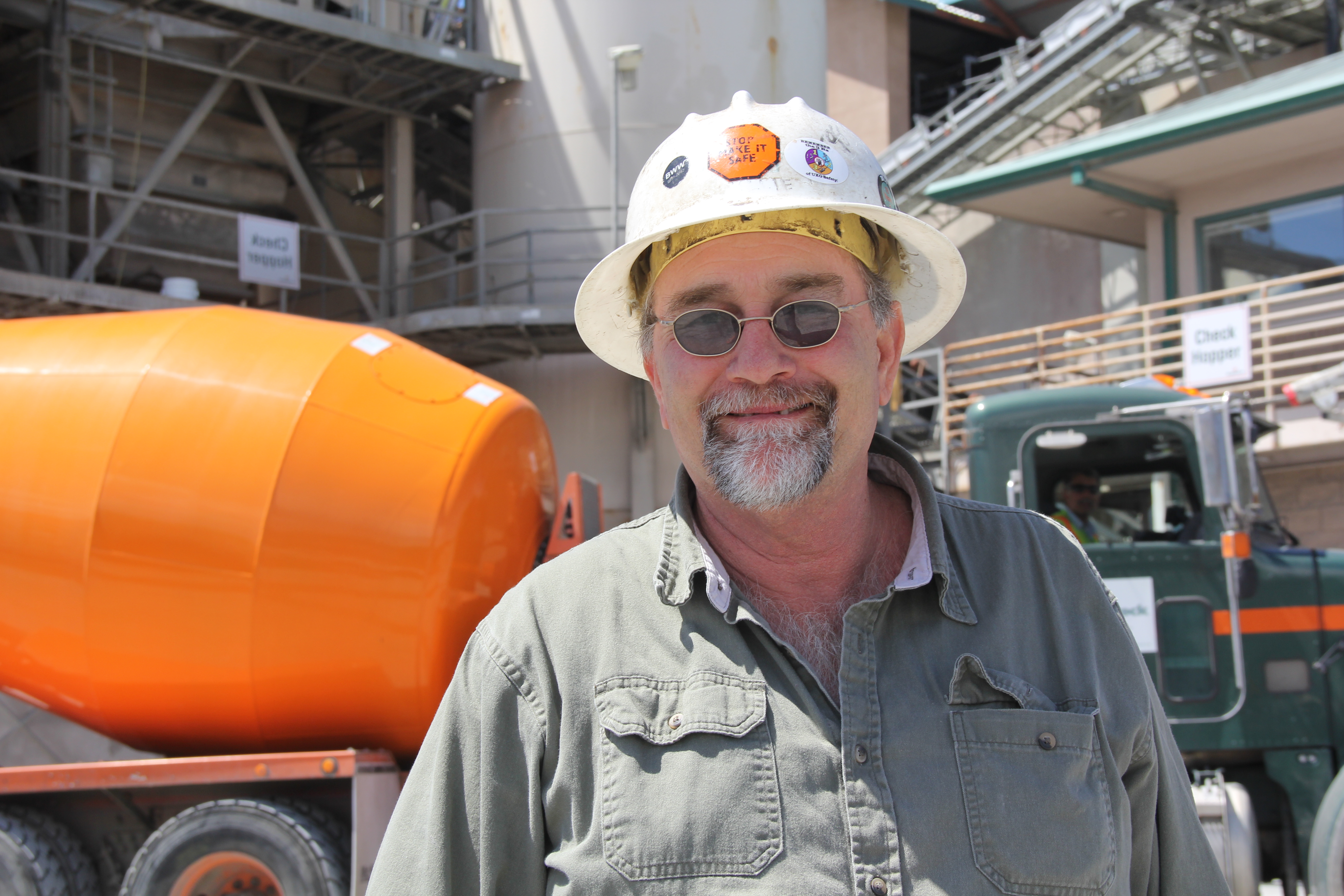 The guy you want on your next concrete project
Posted by Shanna McCord Crigger on May 16, 2016
SEASIDE – Willie Diaz is a salt-of-the-earth kind of guy you'd like to share a beer with or invite on a fishing trip.

A true guy's guy – down to the camouflage seat covers in his Ford F-250 and the room at his Monterey home dedicated to all the ducks he's shot and stuffed himself.

He's also the guy you want on your concrete project, whether it's a driveway or runway.
Willie, 54, is a seasoned expert in how the material works best for each particular project, a time-tested veteran since starting in the industry just after high school.
"I'm in my comfort zone with concrete," Willie said. "I feel comfortable around concrete more than anything else. I love that you can see what you've done almost immediately as concrete hardens up in four hours. I enjoy the challenge of getting something done in a specific amount of time allowed."
While Willie came to Graniterock in 1996 as a mixer driver at the company's Seaside branch, his start in the business began with family much earlier.
His grandfather ran a cement contractor company in Monterey after World War II, which was sold to Willie's uncle in the 1970s in a deal that required he teach his nephews the trade.
Willie, who dropped out of Monterey High School in tenth-grade, spent several summers laboring for the family business, digging and cleaning job sites.
At the same time, he worked at the former Whaler Restaurant on Cass Street as a busboy and eventually became the restaurant's top cook – all before turning 21.
Concrete finisher by day and cook by night – until a construction job that ran late forced him to choose between the two.
He stuck with concrete and never looked back.
In 1991, Willie got his contractor's license and worked for himself for several years until his wife Lisa, whom he started dating in eighth-grade, prodded him to find a job with benefits.
"I'd never driven truck before," Willie said. "But according to my wife, I needed a real job."
He spent five years behind the wheel, which included some dispatching, until he was itching for a new challenge.
Not one for a traditional sales job, Willie was approached by Graniterock's late president Bruce Woolpert with an offer to try a newly created "field position" - someone who checks job sites for accessibility and works with clients on what concrete spec they'd need to meet.
"Years later, here I am today in sales," Willie said.
Favorite projects over the years have been the Lucia rock shed over Highway 1 and the Carmel Valley dam removal, mainly because of their sheer size and challenges.
Willie's a straight shooter, not one to mince words or sugar coat a situation, even if it might not be what the customer wants to hear.
He advises clients on how concrete will work best with their projects, and doesn't think twice about showing up on the job site at 3 a.m. to ensure everything is running according to plan.
"My approach is that I'm part of your team," Willie said. "I believe we work best when we do it once and we do it right. When you ask me to help, I go all in."
Mark Vucina, a general contractor specializing in large custom homes on the Monterey Peninsula, turns to Willie for all of his concrete needs because Willie goes "above and beyond" in every case.
"When I call him for trucking or concrete, he's going to make it happen," Mark said. "It's a matter of trust with Willie, and that's how I like to do business. He's part of Team Vucina."
Graniterock colleague Robin Steudler says Willie's built strong business relationships over the years because he treats each client's project as if it were his own.
"With every yard of concrete, he does everything he can to make sure it comes out perfect," Robin said. "On top of that, he's fun and a great guy to be around."
Back to all Blogs