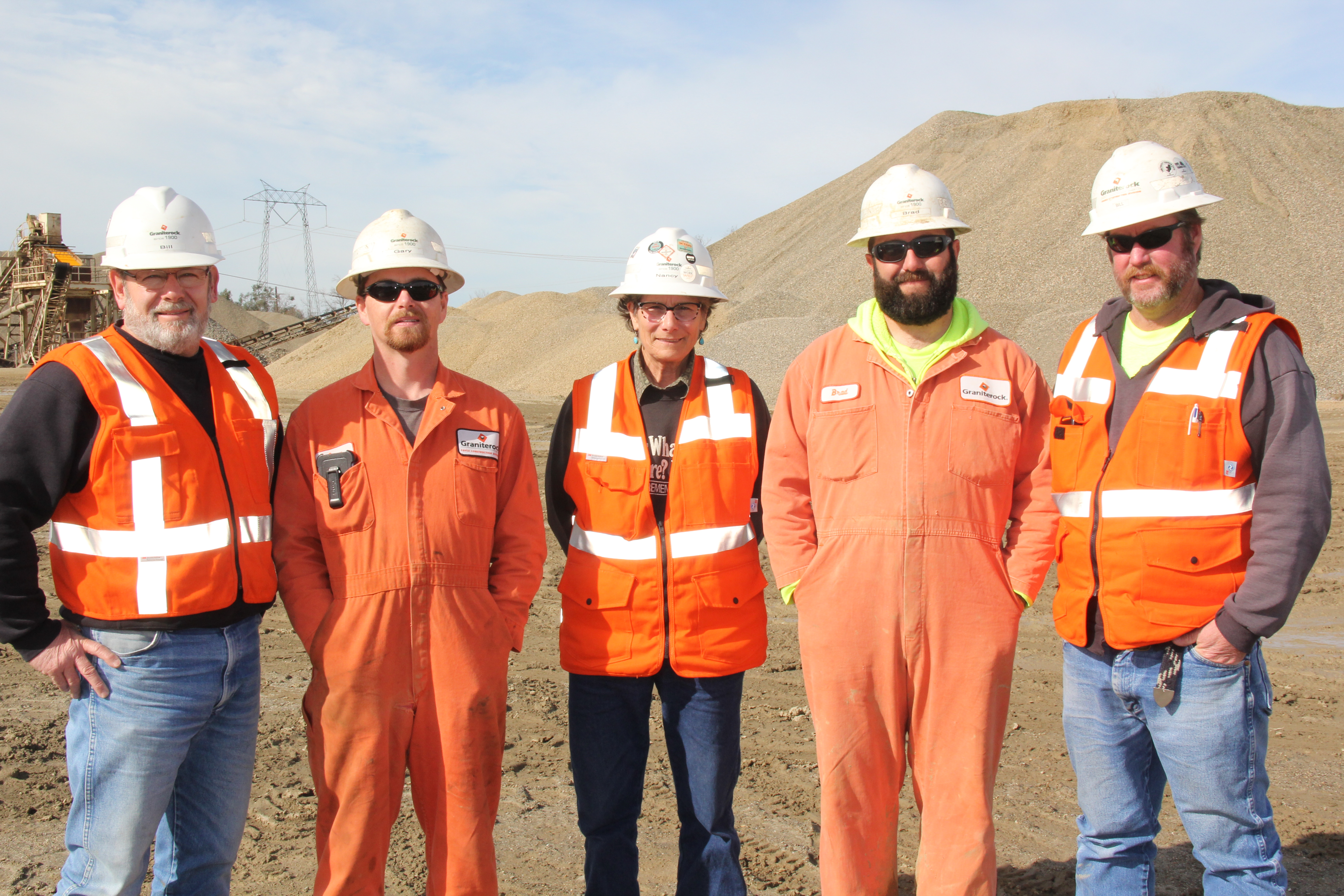 Safety top of mind for Southside team
Posted by Shanna McCord Crigger on Feb 19, 2016
HOLLISTER – The Southside sand and gravel team doesn't grab the spotlight very often, but they're a shining example of great team work.
In a rural outpost on the outskirts of Hollister, the five-person Southside team mines rock and sand from the banks of the Tres Pinos Creek, delivering consistent quality to Graniterock customers despite an ongoing battle with the raw material.
"We're always fighting the clay," said Bill Damm, who joined the Company in 1979 and has managed Southside operations since 2004. "The timing here is real critical to get the clay out of the way. The clay is everywhere and we have to separate it from the rock and sand. Not easy."
The team is productive and doing the best they've done since the Great Recession hit in 2008, thanks in large part to Bill and his simple, but direct leadership style.
He's generous with autonomy, letting the team – Gary Andrade, Nancy Lausten, Bill Pumphrey and Brad Riechers - know what needs to be done. Then he gets out of their way.
"I've got a game plan for the work we need to do and I prioritize," said Gary, the plant's main mechanic. "Bill lets me do my own thing to get the job done."
Nancy - a Graniterock weighmaster since 1981 who has an artsy side when she sheds the hard hat - works with the truck drivers who come through the plant daily and is willing to step in when someone on the team needs her help.
Nancy's wide range of craft projects have won numerous awards at the San Benito County Fair.
She's also well versed in every detail of how the plant runs - managing the branch's work orders, record keeping, safety records and MSHA's Part 46 training regulations.
She enjoys Bill's leadership because he's serious about doing a good job for the Company and its customers, but also knows how to share a laugh.
"This is my home away from home," Nancy said. "Bill is easy to talk to, whether it's personal or a Graniterock matter."
While the team is busy mining rock and sand, running the plant, balancing inventories and building settling ponds, safety is always top of mind.
They truly live by the Safety Before All Else core value.
It's been several years since the Southside team has had an incident, and the current team has not had a lost time incident since December 2006. .
Their stellar safety record has been recognized by CalCIMA.
The team won CalCIMA's outstanding safety practices award in 2014, and Brad received the individual excellence in safety award in 2015. Gary won the individual excellence in safety in 2014.
"These guys get it," Bill said. "Safety is reinforced daily. They do it for each other. They really plan before starting a project."
Bill's leadership skills were gleaned from some of the best in Graniterock history.
He was recruited to work in Graniterock's RTS Department by his friend Val Verutti, who worked in the lab for many years before he passed away from pancreatic cancer in 1996. Val and Bill had previously worked together at Ideal Cement Co. in San Juan Bautista.
After a three and a half hour interview with Betsy Woolpert in 1979, Bill settled into a long career that included materials testing and exploring for rock at the A. R. Wilson Quarry with Bruce Woolpert, Sr.
Bill and his wife Mary, longtime Hollister residents, have been married 49 years with two sons, one daughter and four grandchildren.
When not working, Bill and Mary travel the world to places such as Italy, Mexico, Hawaii and Spain.
"I work with the best team Graniterock has to offer," Bill said. "Why retire when I have the pleasure to work day in and day out with this team?"


Back to all Blogs