Up Close: It Takes a Team - Sergio Rubio
Posted by Keith Severson on Mar 18, 2015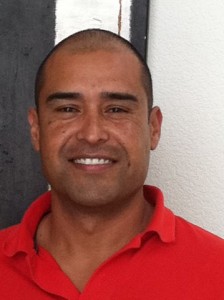 Graniterock's Sergio Rubio is a team player who relishes the challenges he finds every day on the construction site. According to Sergio, "On every job, you walk in and know you're going to learn something new. You're building in a totally different location every time, and you need to have an open mind. Especially working with so many people, you need to know you aren't the one guy with all the answers. It takes a team." During a recent Construction Update interview, Sergio talked about his experiences as a Project Engineer within Graniterock's Pavex Construction Division and some of the more difficult projects he has worked on as a member of Graniterock's Pavex Team. Last summer he was involved in two complex jobs which required a high level of coordination and cooperation from everyone involved.
The Summit Project on Highway 17 in the Santa Cruz Mountains was a job designed to make this sometimes scary drive safer and more efficient for motorists. New concrete barriers and improved drainage systems required Pavex to move the huge portable batch plant from Redwood City to the top of Highway 17 and get it operating at its new location. This turned out to be quite a challenge. The plant hadn't been used in five years and nobody really knew where all the parts and pieces were. Once the plant was in place and put together, the Team needed to make sure it could do everything necessary to obtain a permit from CalTrans to validate the plant's ability to meet Cal Trans specifications.
A major challenge of the Summit Project was the requirement for rapid set concrete. "This concrete sets up fast," said Sergio. "From the minute it is batched it there is just 45 minutes to an hour before it is no longer workable. That was a challenge and everything had to be in line out in the field. It was planned out well by everybody, from the batch guys to the field guys, and we never lost a load of concrete."
Highway 85 was another night job using rapid set concrete to replace roadway panels. "All of Highway 85 is built with 12 foot by 16 foot concrete panels," Sergio explained. "At one point we were placing100 to 300 yards per night. This job was also very time sensitive, because you have a tight traffic window you have to follow. If you get off the road late, you are going to have a lot of commuters who feel the impact."
This complex project had many moving parts: replacing panels, grinding three miles behind the panel crew, paving shoulders, completing electrical and guardrail work. This was an "A plus B" project, which means the winning bidder contracts for both the lowest cost and the least days, so The Team needs to be very strategic with their planning.
Sergio's experience makes him comfortable managing this type of construction job. He began work at Pavex fourteen years ago as a grade setter, taking what was on the plans and communicating them to the heavy equipment operators. He advanced on to a Field Supervisor position, then as a job superintendent managing larger scale projects. When offered a Project Engineer position he jumped at the chance. When asked what his future might hold, Sergio replies, "I have had a good solid foundation with building projects. One day I'd like to learn more about construction law, contracts and the art of negotiation, learning more management and how to work to benefit all our Graniterock divisions."
For now, Sergio has his hands full with work and kids. He has coached his son Christian's baseball teams from T- Ball through Little League Majors. Christian, 13, is now in Pony League and Sergio is content to watch from the sidelines. "Coaching baseball with Christian is the most fun I've ever had. Baseball is still our thing." Now Sergio's seven year old son Dylan is playing soccer and Dad is his number one fan.
Reflecting on the past year at Graniterock, Sergio recalls, "When I started in 1999 there appeared to be boundaries within the Company, but now they seem to be gone. I work with the Berryessa (San Jose Road Materials) plant guys a lot, and they are so willing to help us out. With Bruce's' (Woolpert) passing I think it brought people closer. The Company came together as one and forgot old habits – people came together. Even now, I'll meet someone at Graniterock and the question always pops up, 'did you know Bruce?', and that is a connection."
Back again this summer on Highway 85, Sergio is at work on a ramp metering project. "From Highway 280 to the 101 we are widening all the on-ramps and putting metering lights in. We're also working on projects in San Jose and Sunnyvale and trying to button up change orders on Highway 17. You won't see us unless you are out there really late at night." Knowing that Sergio Rubio is working the night shift helping lead the Team at Graniterock to build and improve our roads should help us all sleep well.
Back to all Blogs