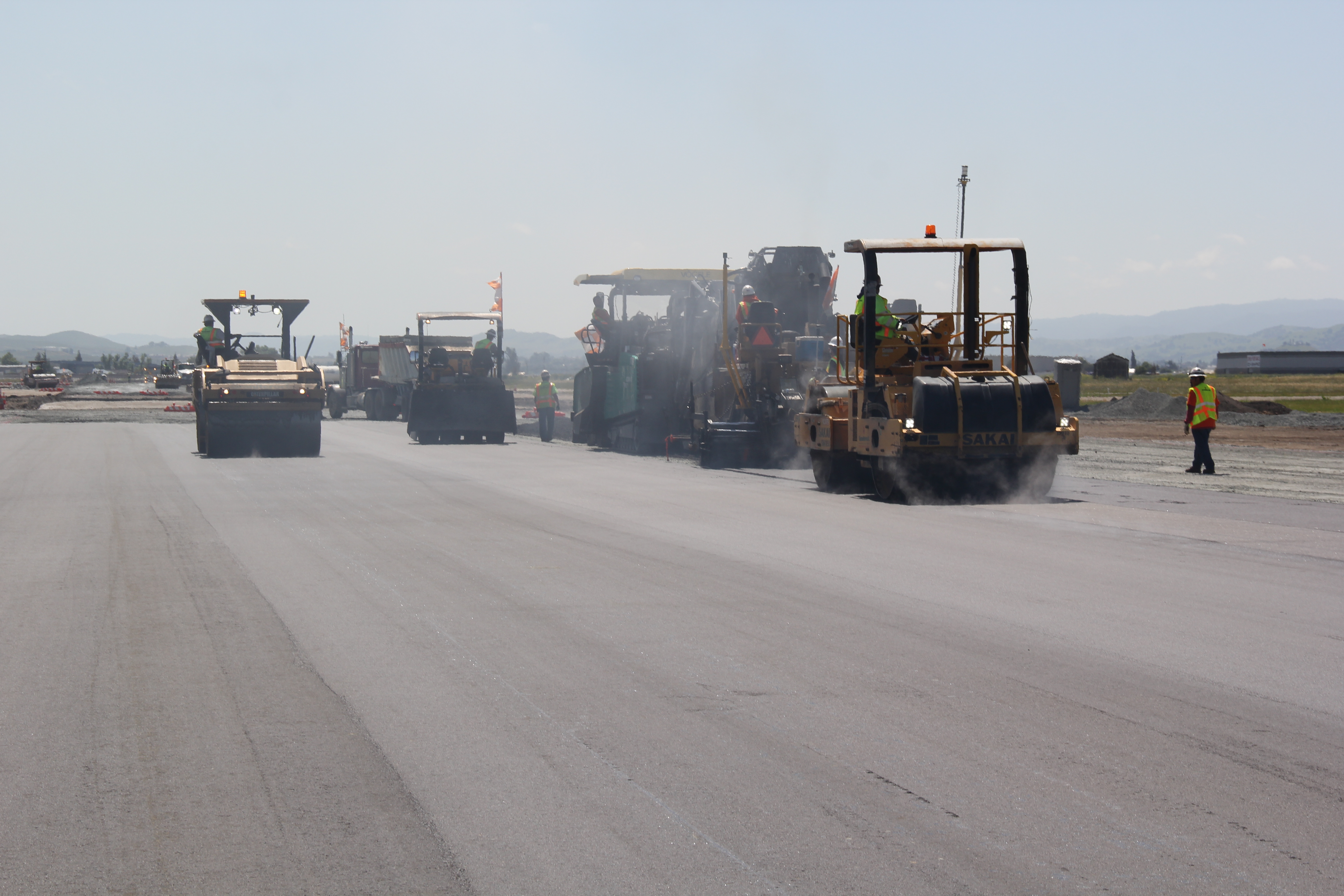 Runway reconstruction completed in time for fire season
Posted by Spencer Wright on May 4, 2016
The start of California's fire season drove the Construction Division to work efficiently under a tight deadline to get Hollister Municipal Airport's runway reconstructed and open again for Cal Fire planes by May 1.
The $5 million project for the city-owned airport required crews to work six days a week in 10-hour shifts since February, along with several areas of the Company pulling together to ensure its timely completion – including materials and transportation.
Bid by Estimator Bob Williams, the work called for 12 inches of lime treated base, 6 inches of baserock and 5 inches of a special FAA asphalt mix.
"The crew has done a phenomenal job," Project Manager Spencer Wright said. "When you have a crew that knows what needs to get done, it makes the work that much easier."
In all, the Construction team put down 40,000 tons of baserock from the A. R. Wilson Quarry and 21,500 tons of asphalt from the Aromas plant.
In addition, the Northern Road Materials team in Redwood City supplied roughly 1,000 gallons of oil to the project each day with driver James Henry hauling SS1.
"We enjoy these projects with the Construction Division," said dispatcher James Wolfe. "It works best when we're able to keep the same driver on these jobs, which we were able to do here."
Area Manager Karl Philipovitch said the Hollister airport job is a perfect example of how Graniterock's vertical integration allows the Company to execute at a high level.
"This was a great collaboration between materials, construction and transportation," Karl said. "Placing our materials with our construction crews and using our transportation benefits us and the owner."
Thanks to everyone who worked hard to make the May 1 deadline.
Spencer, Brent Edelman Jr., Karl, Gary Hartranft, Brent Edelman, Randall Jacobsen, Todd Wilson, Jeremy Dennis, Tony Guevara, Tom Kachel, Jason Lauderdale, Stephen Whitmire, JJ Magallanes Neri, Joey Martin, Mike Mowry, Dominic Pirozzoli, Sal Jauregui, Ramiro Mercado, Robert Lauderdale, Bobby Gill, Robbie Kashka, Armando Leyva, Gus Padilla, Nick De La Torre, Pedro De La Riva, Jose Luis Romero, Miguel Contreras, Bobby S. Gill, Justin Reinman, Brandon Ruiz, Jason Smyth, Casey Vargas, Michael Vaz, Frank Rancadore, Gabe van de Grut, Michael Wiedeman, Jason Sanchez, Danny Diaz, Nick Wenzel, Don Barrett, Chago Ramirez, JR Renteria, Matt Dorsa, Victoria Alarcon-Carrilloand Tina Brown.
Back to all Blogs