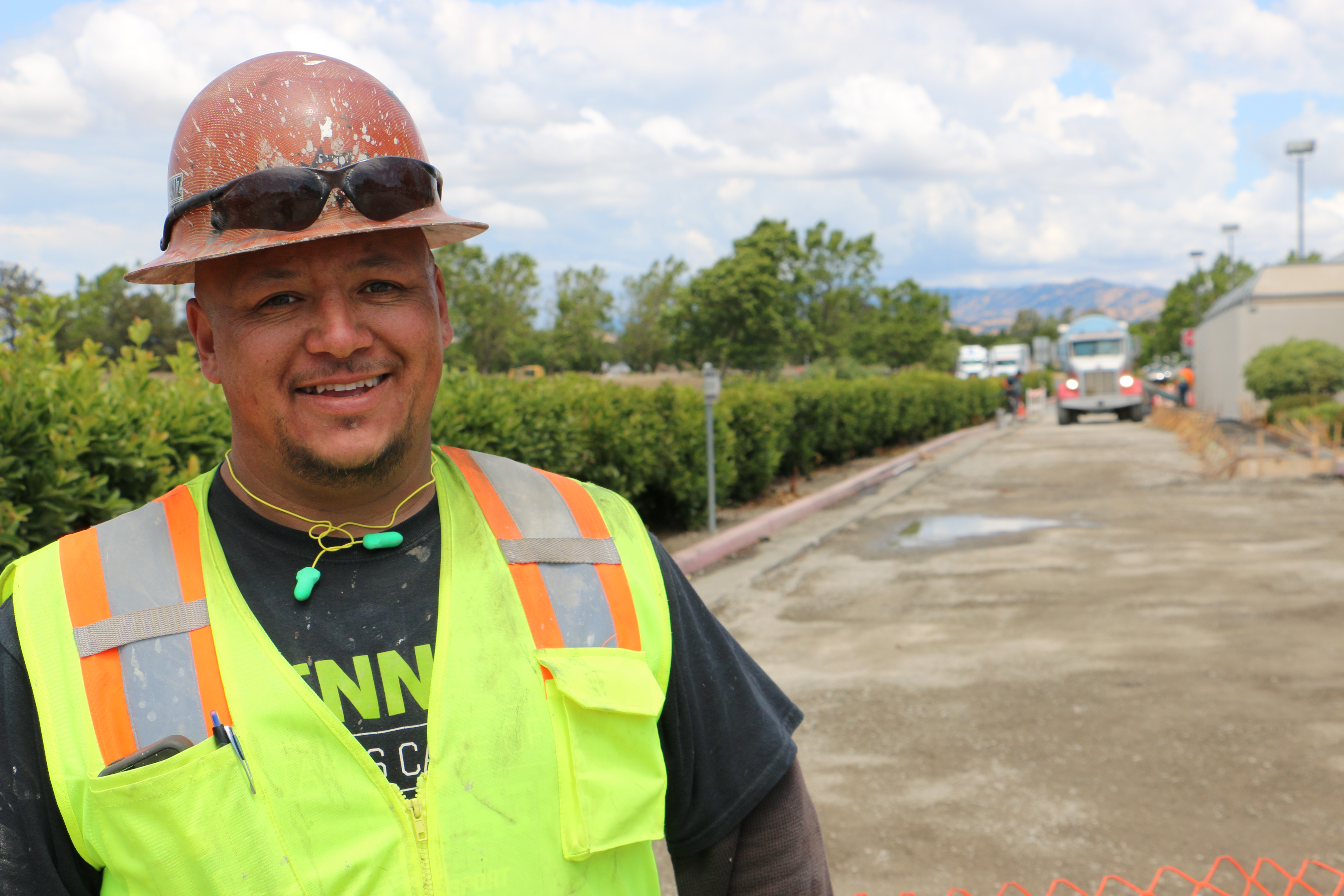 Rock Star: Raudel Salinas shares secret to success
Posted by Robert Ellenwood on Jun 8, 2016
FAIRFIELD – Safe to say no one likes to be yelled at or put down.

Raudel 'Toby' Salinas, Jr. once worked for a foreman who cursed commands and was relentless with harsh criticism.

That boss didn't teach or guide. He only motivated through fear.
Raudel, 40, swore to himself that if he ever had the chance to manage a team he'd do it much differently.
"I treat my guys right," he said. "If you treat them right, they give you more production. If we aren't working like a team, we don't get anything done well."
Raudel started as a laborer with Alaniz Construction of Fremont in 2001 and rose to foreman in a short time due to his hard work and willingness to learn.
He now leads one of the company's top paving crews, turning out projects with high production rates and happy team members.
He takes pride in coaching his guys and hopes to turn a few of them into foremen as well.
Through the years, Raudel has thrived on learning to operate various pieces of equipment and interpret complicated engineering plans.
He's not one to complain, not even when his sole job long ago was to jackhammer concrete manholes in San Francisco.
He's good with a pick and shovel, too.
"They tested me with the jackhammer to see if I could make it," Raudel said. "I don't mind hard work."
The Fresno native joined the construction industry at a young age to make a healthy living as he was trying to raise a family.
He credits his work ethic to his father Raudel Salinas, who worked in the Central Valley's orchards. His father would bring Raudel along in the summer when school was out to pick peaches, nectarines and other tree fruit.
"He told me I wasn't going to be able to sit home and watch TV," Raudel said. "My dad showed me the meaning of work, which is still with me today."
Raudel lives in Los Banos, which means his day usually gets going around 3:30 a.m. so he can make it to job sites in the San Francisco Bay Area, where the bulk of Alaniz's work takes place.
One of his most memorable projects at Alaniz is the nearly five-year Comcast trenching job that gave Raudel his first opportunity to move from laborer to foreman.
Alaniz CEO Rosy Alaniz, who owns the company with her husband Jesse, describes Raudel as focused and "always paying attention."
She says he's the type of manager who motivates his crew to deliver projects on time and budget.
"Raudel teaches people in a respectful way," Rosy said. "He wants the best for others and empowers them to work hard. Everyone wants to be on his crew."
Raudel also loves fishing, and can be spotted angling in the San Luis Reservoir or the California Delta. He has three children, ages 20, 15 and 5.
He says his strong marriage to wife Edith is due partly to being an agreeable shopping partner on the weekends.
"I don't mind," Raudel said. "If that's what she wants to do, I'm happy to go along."
Back to all Blogs