Community Caring: Graniterock Partners with Enterprise Fleet Management and Enterprise Holdings Foundation to Benefit Pajaro Valley Shelter Services
Posted by Rose Ann Woolpert on Mar 18, 2015
Graniterock People have supported Pajaro Valley Shelter Services (PVSS) in many ways since its formation. Over the past twenty years, Graniterock People have volunteered their time and treasure as fundraisers and Board Members to aid the effort. So when Andrew O'Such, Account Manager for Enterprise Fleet Management, approached the Company a few months ago in search of a charitable organization for an Enterprise Holdings Foundation grant it was natural to think of PVSS. Pajaro Valley Shelter Services helps women, children, and families end the causes and cycles of homelessness - one family at a time.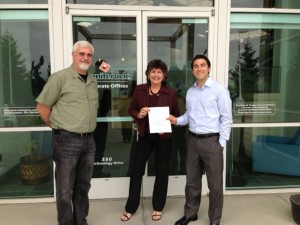 Andrew O'Such of Enterprise Fleet Management delivers a donation check for Pajaro Valley Shelter Services to Ken Schipper and Rose Ann Woolpert of Graniterock
Enterprise Holding Foundation looks for opportunities to give back to the communities in which their customers and employees live and work. The Foundation looks for partnerships with its customers to allow the company to give back to the communities where customers live and work.
Graniterock manager Ken Schipper currently serves on the Board of Directors for PVSS. He helped Andrew with the information needed for a grant application and recently accepted a check for $1,500 from Enterprise Holdings Foundation for Pajaro Valley Shelter Services.
Rose Ann Woolpert, who helped facilitate the grant, thanked Enterprise for working with Graniterock to benefit this important program. "Graniterock appreciates that Enterprise Holdings Foundation is supporting a local charity in partnership with Graniterock. It is a winning situation for everyone."
Back to all Blogs