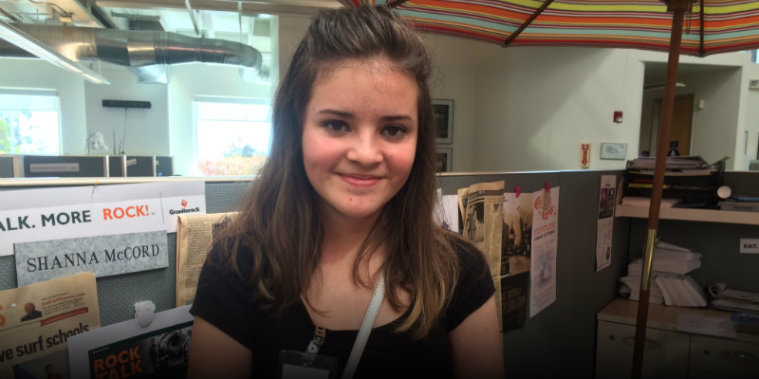 BWW Algebra Academy graduate returns to share knowledge with other teens
Posted by Shanna McCord Crigger on Jul 29, 2015
Yuliana Camarena, 16, will use her algebra expertise to help other teens better understand the subject when the Bruce W. Woolpert Algebra Academy begins Aug. 5 at Graniterock's corporate office in Watsonville.
She will serve as a student teaching assistant, alongside instructors from UC Santa Cruz and Cal State Monterey Bay, to the nearly 120 teens participating in the 2015 Academy.
"Algebra was very challenging until I attended the Algebra Academy," Yuliana said. "I can teach students to interact in the activities and have fun. I am very good at helping middle school and elementary school students with their homework."
Yuliana, a junior at Pajaro Valley High School, attended the Academy the summer before beginning eighth-grade at Rolling Hills Middle School.
Yuliana said the Academy was instrumental in improving her math skills and helped make it one of her favorite classes in school.
In addition, the Academy motivated Yuliana to set her sights on attending a four-year university after high school graduation.
"The Academy helped me a lot because when I got to high school, I had a great foundation for algebra and was ready for the next level," Yuliana said.
The Algebra Academy will be held Aug. 5-7, and 10 at Graniterock's corporate office, 350 Technology Dr., Watsonville. A field trip to CSU Monterey Bay is planned Aug. 11 and a graduation ceremony takes place at 7 p.m. Aug. 12 at E.A. Hall Middle School, 211 Brewington Ave., Watsonville.
For information, contact Kevin Jeffery, Vice President at 831-768-2103 or Keith Severson, Marketing Manager at 831-768-2063.
Back to all Blogs